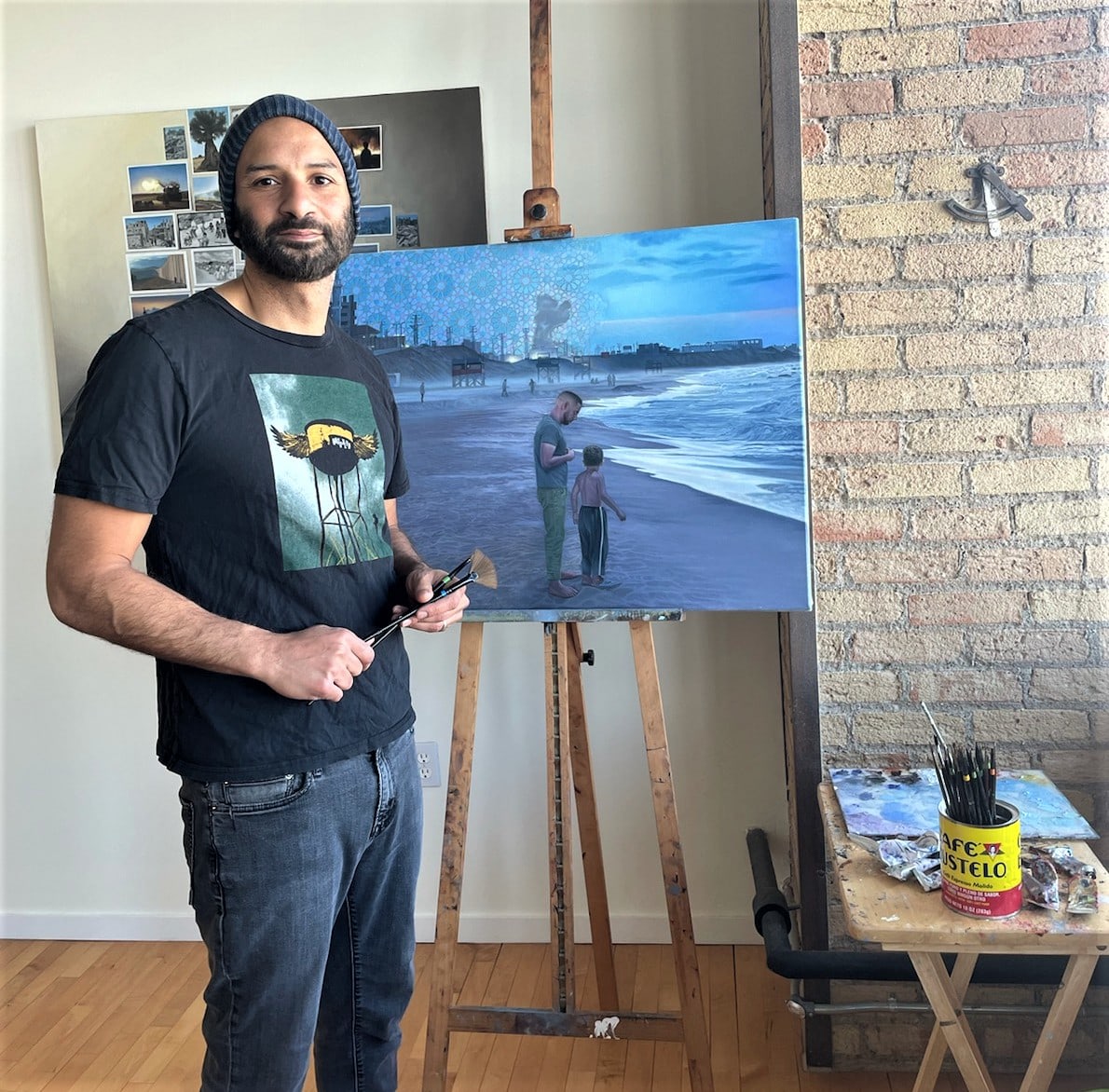 Abraham Elsayed Sherief (1977) is the youngest of seven children from two US immigrants from Cairo, Egypt. He was born and raised in Trenton, New Jersey. As part of a large family, Abraham had a unique vantage point to observe his family's adjustment to US culture. Each family member went through their own process of reconciling the Islamic faith and conservative Egyptian values with Western norms, which resulted in a continual struggle in one's self-identity and feeling of belonging. Additionally, his parents carried deep fears that their children would lose their traditions. Under these conditions, family members experienced a dual sense of alienation in the society where they resided and within their own family. Each sought a unique means to create sense of home and balance.
These experiences served as a strong driver that led Abraham to develop works about communities within the Middle East and the diaspora. All of the subjects in his paintings are individuals who are seeking a sense of peace and balance in chaotic and unfamiliar places.
Abraham began studying painting and drawing at Rutgers University/Mason Gross School. He completed an MFA in 2004 at the New York Academy of Art. He expanded his art training into Islamic pattern and geometry through travel abroad (Egypt and Morocco) and completion of several intensive courses. He has exhibited at various galleries throughout the United States, including New York, New Jersey, Philadelphia, and California.
In my work, I explore how experiences of war, exile, and migration impact an individual's sense of unity within themselves and others. Although we are profoundly connected through our shared humanity, we are often otherized by shallow differences, which lead to isolation, marginalization and, at worst, devastating conflicts. All of the subjects in my paintings have undergone life altering events, which result in challenges to one's self-identity and estrangement from others. As a Muslim Egyptian American, many of my works are also inspired by my own personal experience reconciling my Islamic faith and Arab heritage with US cultural norms, particularly at a time rife with conflict between the West and the Middle East.
I incorporate two distinct art techniques in my paintings: Islamic art and Western figurative art. In Islamic art, the use of figurative images was generally prohibited. Instead, Muslim artisans utilized sacred geometric patterns, architecture and calligraphy to convey divine unity and oneness. In contrast, Western art encompassed figurative paintings, drawings, and sculptures of religious themes and significant historical events. In my paintings, I experiment with color, line, and form to unite these two distinct styles into a single composition. My goal is to produce images that are both unified when viewed in totality, yet also exposes each style's unique characteristics when viewed up close. I am hopeful that these works produce a visual meditation on the commonality that unifies all people, while also highlighting the beauty of their differences.
EDUCATION
2004 MFA, Painting, New York Academy of Art, New York, NY
2000 BS, Criminal Justice, (Criminology Cert.) Rutgers University, New Brunswick, NJ
EXHIBITIONS
2022 17th National Juried Exhibition, Axis Gallery, Sacramento, CA
North of the 45th Parallel, Group Exhibition, DeVos Art Museum, University of Northern Michigan,
Marquette, Michigan, USA
2010 Emerging Colors, Group Exhibition, Dacia Gallery, New York, NY
Dacia Gallery, New York, NY
Various and Sundry, Group Exhibition, Crane Art Building, Philadelphia, PA
Single Fare, Group Exhibition, 225 Grand Street, Brooklyn, NY
2009 Artist of Flux Space, Flux Space Gallery, Philadelphia, PA
2004 MFA Exhibition, NYAA Gallery, New York City, NY