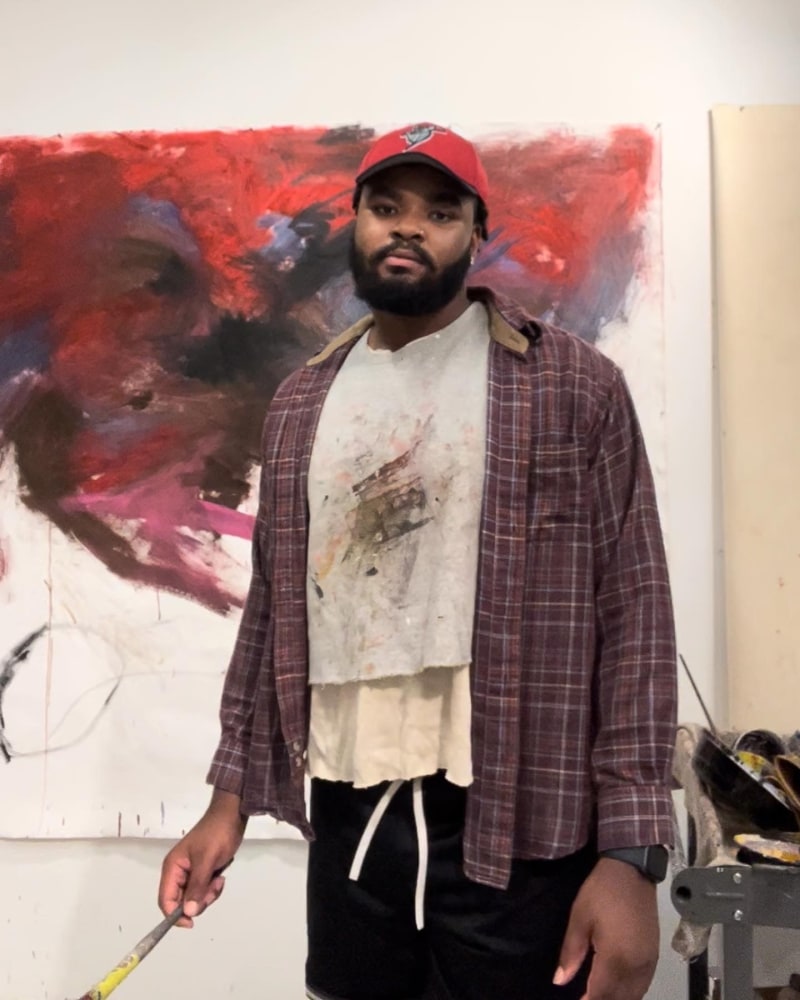 [New York, New York ::: b. 1996 - Boston, MA]
Demetrius Wilson's works are informed by a plethora of experiences diversified in visual realms of personal and social realities, past and contemporary. His reference to the history of Ab-Ex is evident and vital as he articulates the neglect of Blackness within it.
Wilson is interested in images that hold weight. He utilizes painting as a means to find something beyond the surface. There is a difference between stating the obvious, opposed to exploring the subject thoroughly with the aim of discovering something worth experiencing extensively. One can paint a scene of battle but can you feel it? That is the intent behind Wilson's paintings. He endures and grapples with the reconstruction of time, space, and memory, involving a level of personal resonance. This allows him to be in conversation with history while being present and responsive to the complex realities that consume and impact him everyday, such as racial events and the violence attached to them. Forced to recognize his own ignorance and privilege, Wilson has tasked himself with the objective of looking at the world outside of himself, challenging the complexities that mold the realities we live in.
EDUCATION
2024 Major: Painting CUNY Hunter College
2018 Major: Studio Art/Minor: Art History College of the Holy Cross
EXHIBITIONS
2022 Uncommon Senses , Group exhibition, Hunter MFA, New York, NY
2020 Dirty Brushes, Wine, and the Untold, Solo exhibition, Galatea Fine Art Gallery, Boston, MA
2019 Marking a Decade Group Show, Galatea Fine Art Gallery, Boston, MA
Arc of Justice, Collaborative Mural, College of the Holy Cross, Worcester, MA
2018 Fine Art: works from the Senior Concentration Seminar, Group exhibition, Iris and B. Gerald Cantor Gallery,
College of the Holy Cross, Worcester, MA
Senior Major Display, Group exhibition, Hogan Center, College of the Holy Cross, Worcester, MA
2017 Arts Worcester 14th Annual College Show, Group exhibition, Aurora Gallery, Arts Worcester, Worcester, MA
2016 Arts Worcester 13th Annual College Show, Group exhibition, Aurora Gallery, Arts Worcester, Worcester, MA