I am fascinated by the psychological landscape, our search for meaning and the contradictions of human existence.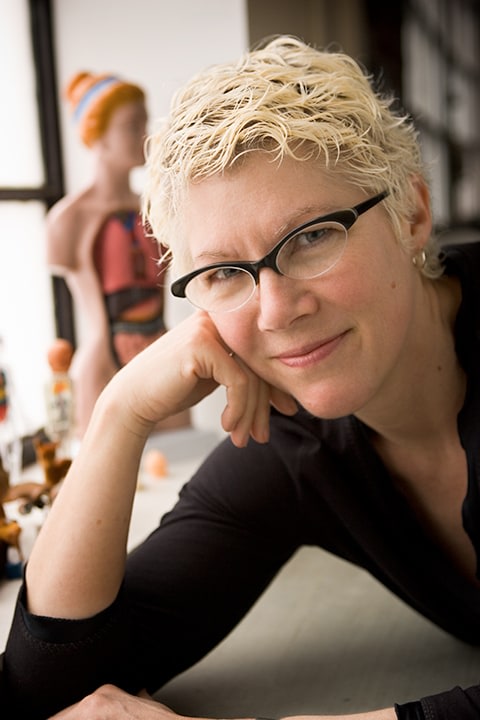 [Portland, Oregon ::: b. Rahway, New Jersey]
Grace Weston creates narrative photography in her Portland, Oregon studio with miniature staged vignettes that address psychological themes. Among her many honors, Weston was awarded both First Place Overall Portfolio category as well as Gold Winner in the Fine Art Portfolio category in the 2021 Tokyo International Foto Awards. She has earned fellowships from both the Oregon Arts Commission and Artist Trust (Washington State), nominations for Portland Art Museum's Contemporary Northwest Art Awards (Oregon), and numerous grants during her career spanning more than 25 years. In 2012, she had her first European solo exhibition at Paci Contemporary in Brescia, Italy. An extensive exhibition of her work was shown at the Center for Photography in Yekatirinaberg, Russia in 2021. She has exhibited widely in the US, as well as Europe, Scandinavia, Russia and Japan. In 2009, she was a finalist in PhotoEspana's Descubrimientos exhibition in Madrid, and named one of the "Nine to Watch" in the Whatcom Museum Photography Biennial (Washington) in 2008.
Weston's work has been acquired by the Portland Art Museum (OR), the Amon Carter Museum of American Art (Fort Worth, TX), the University of the Arts (Philadelphia PA), Seattle Public Utilities Portable Artworks Collection (WA), King County Public Art Collection (WA), Photographic Center Northwest (WA), Portland Community College (OR), King County 4Culture (WA), the City of Seattle Portable Works (WA), as well as numerous private collections in the US, Europe and Japan.
Weston's signature photography has been commissioned for print magazines and book covers in the United States, Italy, Spain, China, and the Netherlands, including O, the Oprah Magazine, Discover magazine, and Geo Magazine (Italia). She is included in the book Microworlds (Laurence King Publishing, UK 2011). In 2020 Peanut Press published a monograph of her work entitled The Neighbors Will Talk.
As an artist working in the genre of staged photography, I construct, light, and photograph miniature vignettes to address the questions and contradictions of life. Although I never depict actual people in my photographs, the human psyche is undeniably at the center of my work. I am fascinated by the psychological landscape, our search for meaning and the contradictions of human existence. So many stories, myths and artworks throughout history address these same concerns, and in my most recent series I have found much rich source material to inspire my own interpretations.
When in my teens, the first photo I ever fell in love with was Satiric Dancer by Andres Kertesz.
I tucked the treasured black and white museum postcard into the pages of my journal to revisit again and again. Photographed in 1926 in a bohemian sculptor's studio in Montparnasse, it depicts a woman in a Dada-esque halter dress on the sofa in a playfully contorted pose. The muse embodied a creative, uninhibited free spirit, fully in command of her body and the moment. These many years later I decided to create an homage in miniature and in color, otherwise faithful to the original. While working on that set, I became curious about the muse, the "dancer". Who was she? What was her life like? Why did we know so much about the photographer, but nothing of his subject? After some research, I uncovered her name (Magda Forstner) and that she had been a cabaret performer with a successful career of her own. But other than that, she is lost to history.
Next, I restaged the scene once again, using the identical camera angle, the muse in the same quirky pose, and the room decor all mimicking the original photo, but this time in a contemporary setting. I removed the muse from the romanticized vision of the decorative and entertaining object and portrayed her negotiating the unglamorous reality of daily life as a mother of two toddlers. My image is titled Mother's Day, and it helped set me in the direction of my series Reclaiming the Muse.
In this vein, I continue to examine familiar muses and women from past artworks, stories, and myths, setting them in contemporary scenes. Of course, this is not a novel idea. Creating variations and reinterpretations of past tales and depictions is an age-old tradition, practiced throughout art history. In focusing on the women, often not acknowledged as anything other than an object of beauty or scorn in these old stories, historic artworks, and mythology, I strive to present the muse from her viewpoint, as an active player, furthering the issues important to me as a contemporary female artist.
In my research, time and time again, the women in myths, folk tales, the Bible, and elsewhere are held responsible for causing both the world's ills and the failings of men. This includes their own rapes, which are recounted in mythology with shocking frequency, and are always deemed the woman's fault, justifying her inevitable punishment.
My muses take back their agency and tell their own stories.
I have continued with this series and my research, reframing my muses from passive items of beauty or derision to show them as active and powerful heroines in their own lives. There is a rich well to draw upon. We must remember, these old stories are fiction, and it is far past time for the retelling.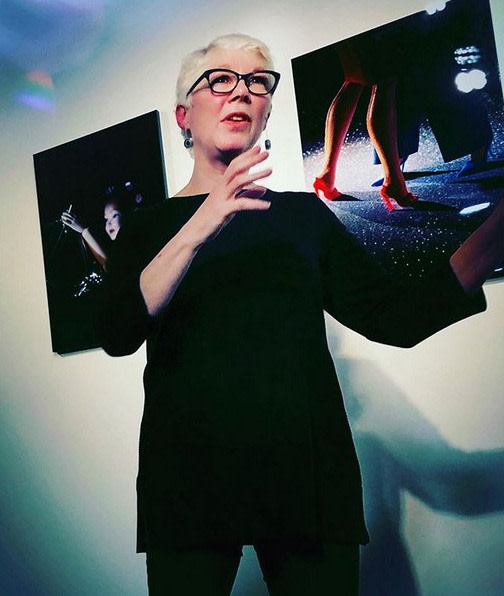 SELECTED SOLO EXHIBITIONS
2021 LITTLE FICTIONS, Center for Photography Mart, Yekaterinburg, Russia. Curator - Artem Berkovich.
2020 DAY AND NIGHT, Helzer Gallery, Portland Community College Rock Creek, Portland, OR.
2018 ESCAPING GRAVITY: Breathing, Dying, Swimming, Flying (an installation)
2017 GRACE WESTON, Erre Contemporary, Naples, Italy.
ULTRA REAL, Archer Gallery, Clark College, Vancouver, WA.
THE LONG NIGHT, Griffin Museum of Photography, Boston, MA.
SELECTED GROUP EXHIBITIONS
2022 Tokyo International Foto Awards Exhibition, Shibuyu Cultural Center Owada, Tokyo, Japan.
Tokyo International Foto Awards Exhibition, House of Lucie, Budapest, Hungary.
Tokyo International Foto Awards Exhibition, House of Lucie, Kashan, Iran.
LIGHT, A. Smith Gallery, Johnson City, TX. Juror – Aline Smithson.
2020 PACIFIC NW VIEWING DRAWERS, Blue Sky, the Oregon Center for the Photographic Arts, Portland, OR.
THE ROAD, JKC Gallery, Mercer County Community College, Trenton, NJ.
2018 DEPTH OF FIELD 2018 , Center for Photographic Art, Carmel, CA.
ART-TRI-BU-TION, Griffin Museum of Photography, Boston, MA.
2017 TOY STORIES, Bruce Lurie Gallery, Los Angeles, CA.
THE VISUAL METRIC, Griffin Museum of Photography, Boston, MA.
500, Guest Shed Gallery, Seattle, WA.
ARTISTS COLLECT, Kirkland Art Center, Kirkland, WA. Curator: Michael Dickter.