I am looking to explore the simplest most banal moments of daily life and create drama and surprise where there appears to be none.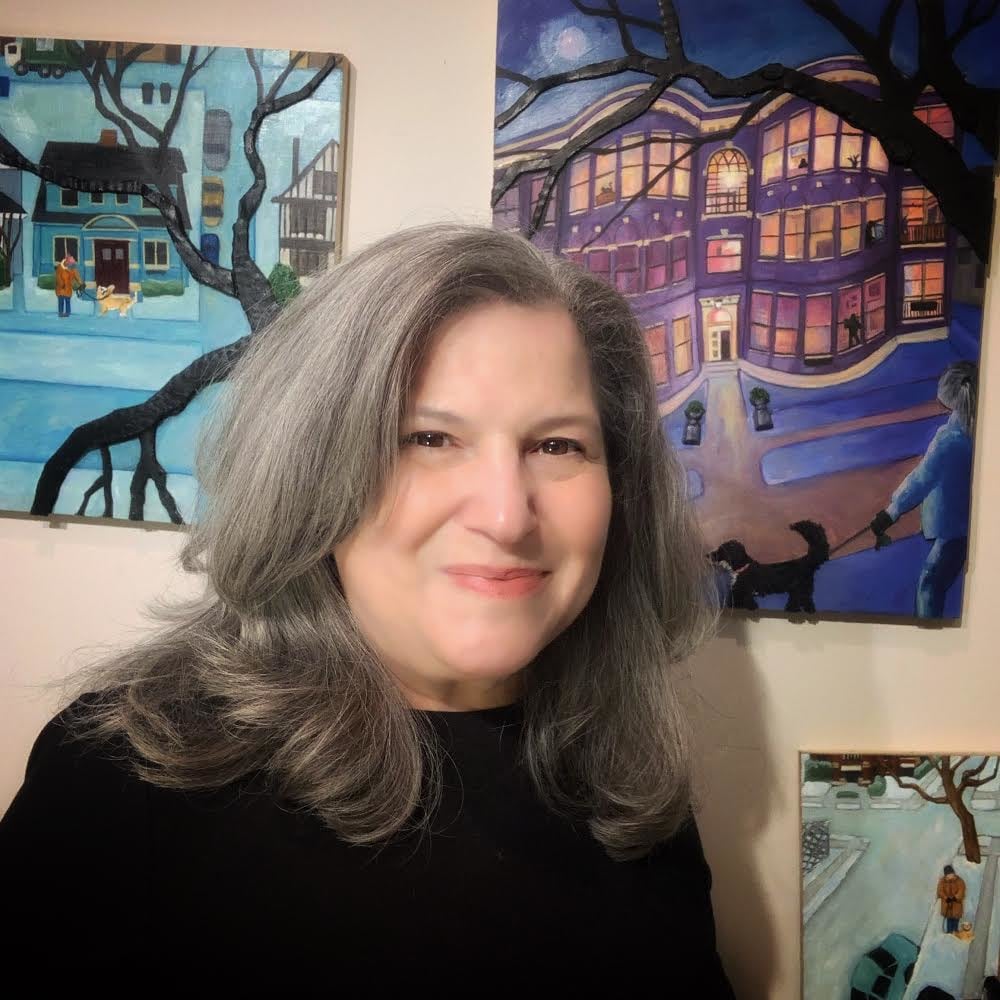 [Evanston, Illinois ::: b. 1958 - Chicago, Illinois]
Kathy Halper is a self taught Chicago based artist whose work has been shown at Muriel Guepin Gallery in New York, George Billis Gallery in Los Angeles and Packer Schopf Gallery in Chicago, as well as countless museum and gallery exhibits. She has exhibited at Art Basel Miami and has been written about in Huffington Post, art magazines and blogs all over the world.
While raising teenagers at the onset of the social media revolution, she became fascinated by found online photos of teens at play and began a series exploring privacy and parenting in the age of public posting. This led to a series of embroidered drawings and portraits on this generational conflict that garnered Halper international attention.
Halper's art has continued to evolve, always with an awareness of the artist behind the work. Increasingly drawn to the lack of pretension found in Outside Art, she has added materials to her palette that incorporate both traditional painting and craft or found objects. What has emerged range from political narratives in the age of Trump to cardboard paintings that tell family stories.
Her current paintings are her most personal yet, showcasing her sharp humor, creative exploration and storytelling skills. "Anti-Social Life" began as a response to the pandemic and our life as "shut-ins" and continues to draw attention to ordinary life, while being anything but ordinary. Glitter, embroidery thread and beads make appearances. She often employs her dog, Fiona as a muse/witness, as well as 3D elements and forced perspectives to inject drama into stories where there is none.
The artist lives in Evanston, IL with her husband, dog, and any visiting children.
This series began in January 2021 amidst the pandemic. I was able to focus on the small moments that make up a day and consider what they mean to me. While the work appears whimsical, under the humorous facade lies some sense of alienation and loneliness. And the emptiness that comes with the sameness of our daily routines.
I am looking to explore the simplest most banal moments of daily life and create drama and surprise where there appears to be none. I am inspired by Outsider artists and the lack of pretense that permeates their work. I want to communicate with the viewer as if we are having a conversation and I am telling them a story. A "fish story" of sorts with a few details enhanced or skewed for dramatic effect.
The scenes are rendered in an alternate reality with either or both 3 dimensional elements and flattened shapes, as well as multiple and forced perspectives to help guide the viewer through the narrative.
I work with an awareness that fine art and lo-craft do not typically coexist in a painting. I find this tension intriguing. And it inspires my use of materials such as cardboard, clay, thread, and glitter to infuse the scenes with my humor, humanity, and personal look at the world.
EDUCATION
University of Colorado, Boulder - BS in Advertising/Journalism – 1980
SOLO EXHIBITIONS
2018 "What a Day It's Been" – 1100 Florence Gallery – Evanston, IL 2014 - "Epic Party" – George Billis Gallery LA
2013 "TMI (Too Much Information)" – Packer Schopf Gallery
2012 "POS (Parent Over Shoulder)"- Craftland Gallery, Providence, RI 2012 - "Friend Me" –
Packer Schopf Gallery, Chicago
2010 "This is Our Youth" – University of Illinois, Chicago 2010 - Union League Club of Chicago
2007 "Hand in Hand: Portraits of the Unsung" – SXU, Saint Xavier University, Chicago 2006 -
"Layers" – ARC Gallery
SELECTED GROUP EXHIBITIONS
2022 No Dead Artists (Aug. 2022), Jonathon Ferrara Gallery, New Orleans
Fabulous Fibers - bG Gallery - Santa Monica, CA
2021 Superfine Art Fair X3, New York, New York
2016 "3 Embroidery Artists" – Aron Packer Projects – Evanston, IL
2015 "Boundary Lines: Crafting Personal Space" – Florida CraftArt – St. Petersburg, FL
"Language Art" – Cornell Museum – Delray Beach, Fl
"Pro-Text:When Words Enter Visual Art" – Illinois State Museum – Chicago
CONTEXT/Art Miami – Packer Schopf Gallery – As part of Art Basel Miami
2013 "Be Good For Goodness Sake" – Muriel Guépin Gallery – New York City
SOFA Chicago – Lindsay Gallery – Columbus, Ohio
"17th Annual No Dead Artists" – Jonathan Ferrara Gallery – New Orleans, LA
"On Watching and Being Seen" – Northern Illinois University Art Museum – Dekalb, IL
"Colorful Antics" – George Billis Gallery – Los Angeles
"Public/Private" – Woman Made Gallery – Chicago
SOFA Chicago – Packer Schopf Gallery – Chicago
2012 "Role/Play" – Kendall College of Art & Design – Grand Rapids, MI
"Home is Where the Needle Marks" – poptART Gallery, Los Angeles, CA
"Inside/Outside the Box" – FiberPhiladelphia 2012, Philadelphia, PN
"National Art Premiere 2012" – Elmhurst Arts Guild, Elmhurst, IL
"Materials Hard & Soft" – Greater Denton Arts Council, Denton, TX 2012 - "Play" –
Textile Arts Center – Brooklyn, New York
2010 "From the Center: Now!" – Women's Caucus for Art – Curated by Lucy Lippard
"Positive/Negative 24″ – Slocumb Galleries- East Tennessee State University
The Artist Project Toronto - Toronto, Canada
COLLECTIONS
Commission, The Ritz Carlton Highlands – Lake Tahoe Kraft Corporation
Good Shepherd Hospital, Barrington Northern Illinois Medical Center, McHenry Bruce Livingstone, CEO Saatchi Online, CA
Judith Weisman, Curator – "Inside/Outside the Box", FiberPhiladelphia, Philadelphia,PN
PUBLIC ART
"Social Animals" - Terrain Biennial 2021
"The Bark-a-Lounge"- MetamorFridges Exhibit- ComEd-Chicago The Peace Tower – Chicago Cultural Center
Recycle the Raindrops – Chicago
"Sketchbook 6″ – Collaboraction Theatre – Chopin Theatre "Out of the Blue" – Mural project @ O'Hare Airport
PUBLICATIONS
2022 Evanston Round Table
2018 Voyage Chicago – Local Stories
2015 Kathy Halper: Epic Party at George Billis Gallery – art ltd. magazine
2013 Review: No Dead Artists – NOLA Defender
2013 Review: No Dead Artists – Best of New Orleans
2013 "LMFAO @ ur TMI fail, btw! The art of Kathy Halper" – Sarah Nardi, The Reader,2013 Embroidery Magazine – UK
2013 "Kathy Halper/Artist in Residence Series" – video by Joe Gallo Films – 2013 Mother-Musing
2012 Huffington Post Arts Page – March 7, 2012 Surface Design Journal – Summer
2012 Artvoices Magazine- Los Angeles – January/February 2012 Highland Park News/Sun-Times Local
2011 Daily Candy Chicago – November 10. 2011 Athens Voice – issue 365
2008 Mr. X Stitch – The Cutting (& Stitching Edge) – June 2 2011 Studio Visit Magazine
2009 Cover art – East on Central
2008 TV Interview – "Artist to Artist" – January 2009 "Three for the Show"- Chicago Sun-Times
2007 Dateline – News Magazine of the Union League Club of Chicago – February 2008 "Drawing Blood in
Bridgeport" – Chicago Sun-Times – Oct. 2007 www.herestobeer.com – Video interview –
February Medill Reports – April 2007 Daily Candy
Pioneer Press Papers – September 2008, April 2007 The Xavierite
2006 Daily Northwestern
2005 F News Magazine
AWARDS
Third Place – "National Art Premiere 2012", Elmhurst Arts Guild, Elmhurst, IL
Best of Show – "Positive/Negative 24″ – Slocumb Galleries, East Tennessee University Best in Show – "New Works by New Artists" – The Art Center, Highland Park
1st Place-Member's Show – The Art Center, Highland Park
PROFESSIONAL AFFILIATIONS
Evanston Made, since 2018, Co-Director
Nasty Women Evanston Art Fundraiser, 2018, Co-Producer Nasty Women Evanston Art Fundraiser 2017, Co-Producer