A longing for endless landscapes and wild sunsets, juxtaposed by a desire to capture Americana and urban architecture.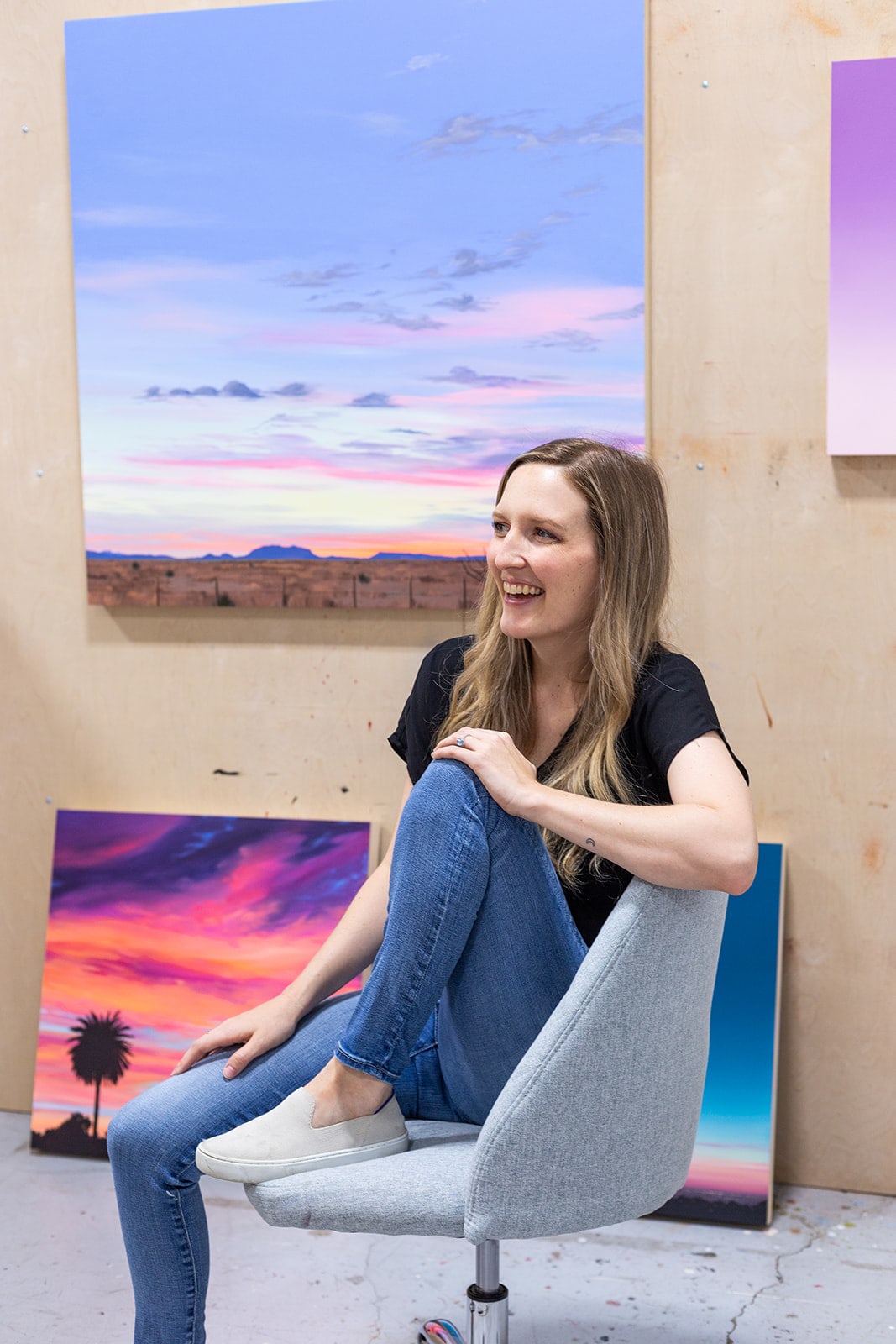 K R I S T I N. M O O R E | | | biography
[lives & works – Dallas, TX ::: b. 1990, Houston, TX]
KRISTIN MOORE, a native Texan, completed her MFA at Otis College of Art & Design in Los Angeles in 2016. She has been named one of Saatchi Art's 20 Artists To Watch in 2020, and a top 10 finalist in the New Western Talent juried exhibition with Western Gallery. Kristin's paintings can be found in collections across the U.S. and Europe. Her work has been shown at The Other Art Fair in Dallas, and in group exhibitions with Jonathan Ferrara Gallery in New Orleans, Gallery 1988 in Los Angeles, and SHOWFIELDS New York (curated by The Jealous Curator). She has had solo exhibitions in Los Angeles, Austin, and Lockhart. Kristin currently lives and works in Dallas, TX and is a studio artist at The Cedars Union.
While living in LA working on her MFA, Kristin began to consider the human experience in relation to location as a reference for her work, and she also fell in love with film. The Hollywood nostalgia prevalent all over Los Angeles became a launching pad for her cinematic view of the landscape around her. She began to consider the way we experience films, and approached art making the same way. While at Otis College of Art + Design, she worked with a team of amazing professors (all artists themselves), who always encouraged her to look outside the studio for inspiration. During one studio visit in particular, Kristin was encouraged to visit Kenneth Hahn Park in Culver City for reference photos. It is that first trip to Kenneth Hahn that changed the way she painted moving forward. The smog blanketing the cityscape of LA from such a high point created an atmosphere she couldn't paint enough of. Kristin began a series of what she called "smog paintings" that explored the cloudy atmosphere of LA at different angles and times of day attempting to recreate the aura of the sprawling city. This practice evolved into the landscape work Kristin creates today.
Her love for capturing the aura of a location through painting was amplified when she first visited Marfa,TX. While living in LA, Kristin often would travel to and from Austin in-between semesters. Marfa became a transitional pitstop for her to shake off the edginess of LA and take a breath in the open landscape of West Texas. "Being in the landscape of West Texas is almost like visiting another planet. You can see for miles and miles with no building in sight; the landscape slows down time and calms your mind." - Kristin on Marfa.
Upon moving back to Texas from California in 2016, Kristin continued exploring the landscapes and highways around her through painting. The experience of living outside her home state had sparked a sense of wanderlust into Kristin's work; a longing for endless landscapes and wild sunsets was juxtaposed by a desire to capture Americana and architecture of the cities around her. Today, Kristin's work continues to oscillate between the landscapes of California and Texas, with a continued expansion to the Western U.S.
Photos by Breezy Ritte
My work explores architectural landscapes through an atmospheric and cinematic lens. Through painting, I create interpretive renderings of recognizable locations that reflect on the human experience. I believe there is power in the emotional connection to a place. That emotional connection is often reiterated through experiencing a representation of a location.

My work oscillates between representing a physical setting and the idealized memory of a place. I look to film as an inspiration for my work, admiring the framing, color, and atmosphere which all convey a narrative for the viewer. I find inspiration in the cinematography of John Alcott, Hoyte Von Hoytema, and Wes Anderson. Travel is also a resource for my work. I source the images that influence my paintings from my many plane rides, road trips, and hikes up to overlooks. My continued collection of archived photographs is used as the blueprint for my creative process. As I work, I refer back to the photographs as a guideline, but also allow the painting to go on its journey. Throughout the painting process, I'm omitting, editing, and rendering, resulting in the work becoming a veiled version of the original inspiration source.

The expansive skies in my work invite viewers to mentally place themselves within the setting of the painting. The familiar symbols that I reference, such as signage commonly seen along a highway, often spark memories for the viewer's familiarity with a location. My landscape paintings expand on this by setting an idealized scene sparking a personal sense of connection and familiarity. Devoid of human activity within their compositions, my paintings allow space for the viewer to engage in a moment of personal reflection and solitude.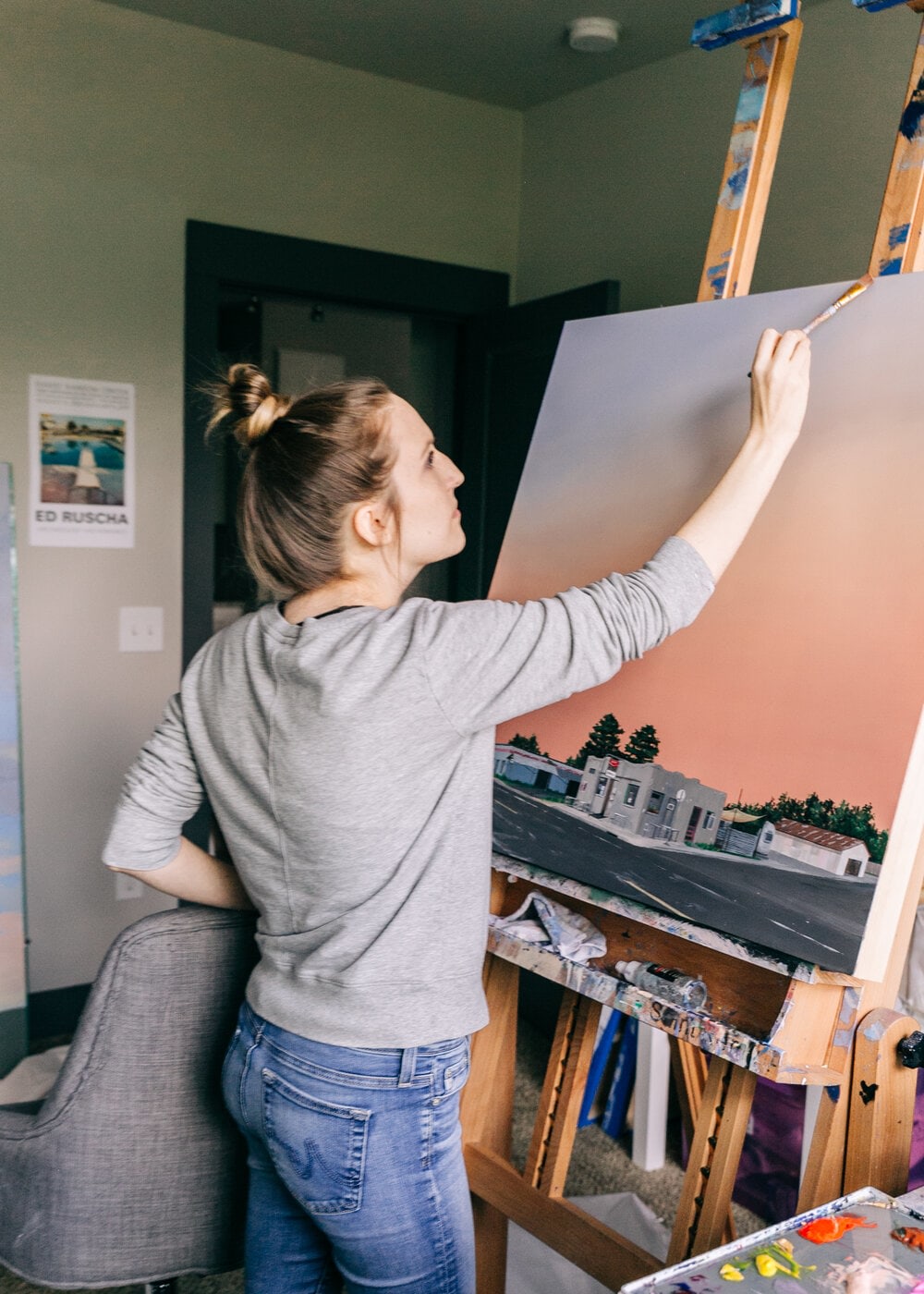 EDUCATION
2016 Master of Fine Arts, Otis College of Art and Design, Los Angeles, CA
2013 Bachelor of Art, Art, St. Edward's University, Austin, TX
SOLO EXHIBITIONS
2022 Texas Haunts, Commerce Gallery, Lockhart, TX
All Those Who Wander, JONATHAN FERRARA GALLERY, New Orleans, LA
2021 From Marfa To Mulholland, Commerce Gallery, Lockhart, TX
2020 New West Texas Paintings, Commerce Gallery, Lockhart, TX
2018 Wilderness: Horizons To California, Austin Bouldering Project, Austin, TX
2017 Ceremony, St. Edward's Fine Arts Gallery, Austin, TX
2016 Rear Window, Bolsky Gallery, Los Angeles, CA
SELECT GROUP EXHIBITIONS
2022 Art Miami, Jonathan Ferrara Gallery, Miami, FL
Art Among The Azaleas, Tyler Museum of Art, Tyler, TX
"Personal Structures", European Cultural Centre, Venice, Italy
Art Market San Francisco, Jonathan Ferrara Gallery, San Francisco, CA
2021 Art Miami, Jonathan Ferrara Gallery, Miami, FL
The Other Art Fair, Dallas Market Hall, Dallas, TX
Places, Talon Gallery, Portland, OR
Happiness Is, curated by Danielle Krysa, House of Novogratz, Venice, CA
Angels In The Architecture/Devil Is In The Details, Talon Gallery, Portland, OR
2020 Franchise 3, curated by Scott Listfield, Gallery 1988, Los Angeles, CA
SHOWFIELDS x The Jealous Curator, SHOWFIELDS, New York, NY
New Western Talent, Western Gallery, Dallas, TX
100 Voices, 100 Artists, Saatchi Art
50x500, PXP Contemporary
2019 Fall Exhibition, The Slate, Dallas, TX
No Dead Artists, Jonathan Ferrara Gallery, New Orleans, LA
The Other Art Fair, Presented by Saatchi Art, Dallas Market Hall, Dallas, TX
Velvet Ropes, Martha's Contemporary, Austin, TX
Vignette Art Fair, The Women's Museum at Fair Park, Dallas, TX
2018 Expressions of the City: Re-imagining the Local, Aether Space Gallery, Houston, TX
Excavations;Shindig, Mantle Art Space, San Antonio, TX
No Man's Land, The Yards Collective, Rochester, NY
2017 Bombay Sapphire Artisan Series, Art on 5th, Austin, TX
Turbulent Landscape, modified/arts, Phoenix, AZ
2016 Now What?, Bolsky Gallery, Los Angeles, CA
Open Studios, Otis Graduate Studios, Los Angeles, CA
2015 Untitled, North Gallery, Otis Graduate Studios, Los Angeles, CA
Rifts Reays, Bolsky Gallery, Los Angeles, CA
AWARDS + FELLOWSHIPS
2020 Top 10 Finalist, New Western Talent Juried Exhibition, Western Gallery, May 2020
20 Artists To Watch in 2020, Saatchi Art, January 2020
2018 Best in Show, No Man's Land Politits Art Coalition, The Yards Collective, Rochester, NY
2017 Austin fellowship, June - July 2017, Artist INC. Austin, TX