My work studies the relationship between environment and emotion with use of light, shadow and color to discover the story behind my subject.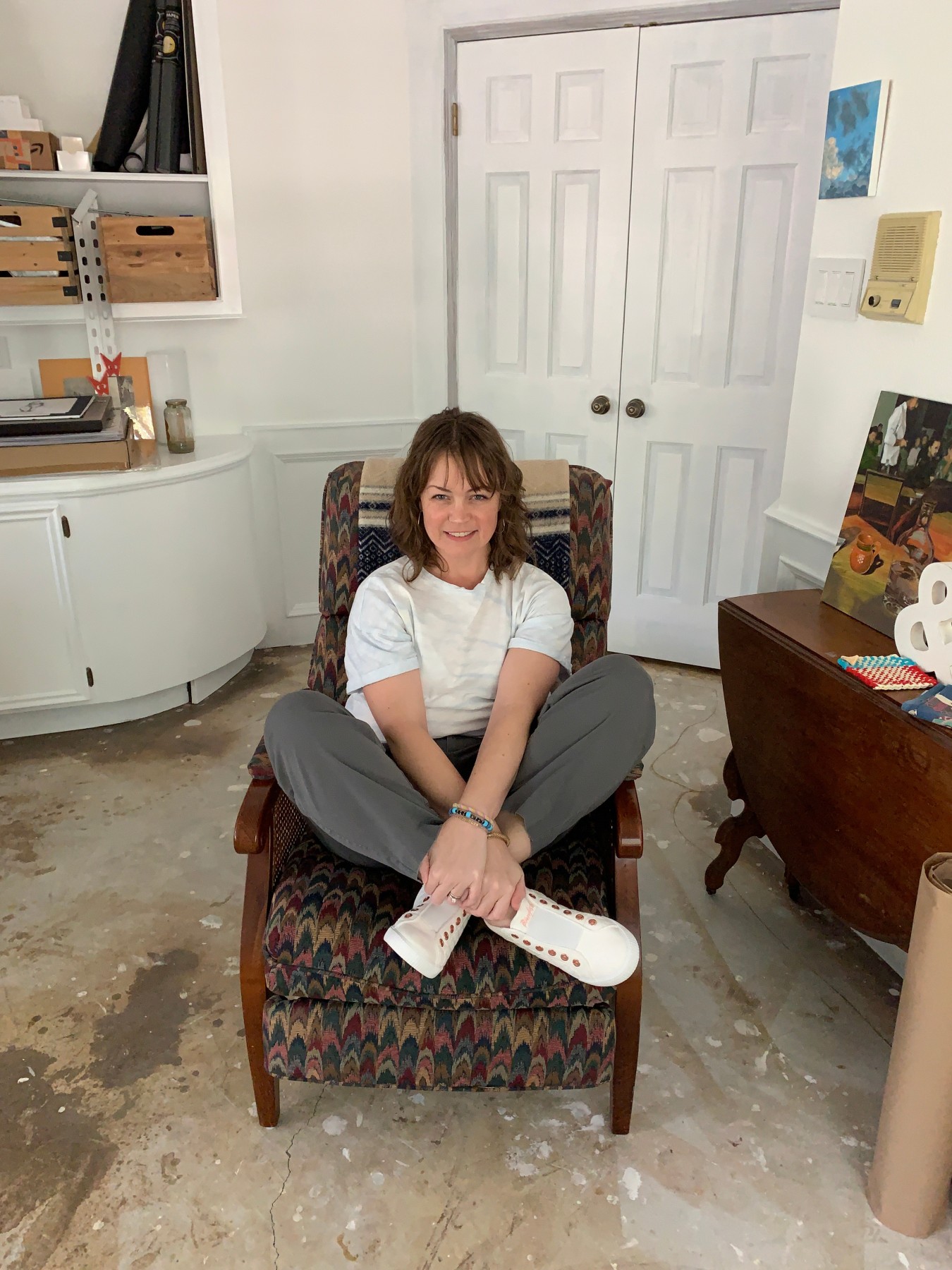 Kristine Schneider, born 1978 in Toledo, Ohio, grew up in The Woodlands, Texas, a suburb of Houston. From a young age she was encouraged to explore her surroundings and pursue her artistic talent by several strong women including her mother, two sisters and numerous art educators. She has been making art professionally for over 15 years.
Her fascination with what it means to be human and her desire to ease the pain of human life has led her to earn a BA in Anthropology from University of Houston and a master's in Public Administration from Sam Houston State University. As Alice Neel says, "…people come first." She has held various positions at Houston Museum of Natural Science, Community Assistance Center, Catholic Charities of the Archdiocese Galveston-Houston and others all in pursuit of understanding humanity. After creating art alongside a decade-long career in social services, Kristine answered the call to, "make room" in her life. She made the transition to her artistic career full-time four years ago.
She now enjoys a profitable art business headquartered in her hometown of The Woodlands, Texas where she raised two children and has since converted a section of their home into studio space. She currently serves as Resident Artist for the Montgomery County Veterans Memorial Commission, assisting in the development of sculptures and exhibit space in the upcoming Veterans Memorial Park in Conroe, Texas.
These works are part of my '&' series. & is a response to my own journey with Aloneness throughout my life and in my previous series, 'Wilderness.' It is an answer to a longing for and an obsession with finding this & in my life, a disruption of the lonely. This series uses compositional elements including the human figure, the glorious light and color of landscapes, and architectural structure to tell stories of human relationships. This series is a song of praise for the ways God brings us together. They are ALL holy.
I paint to learn. Life can be overwhelming and when I feel a big emotion, or am confused by the human interactions surrounding me, I snap a photo. I spend time painting from that photo, working through composition, color, line, but also story, emotion, history, intentions, human purpose. The final piece is what I learned about artistic process, myself and the world around me through prayer, introspection and deliberate examination. I combine layers of subtraction and thicker additive layers of oil paint for intriguing depth and glowing light. These characteristics symbolize those in my subjects.
My work studies the relationship between environment and emotion with use of light, shadow and color to discover the story behind my subject. I am constantly overwhelmed by the beauty of everyday life and when trying to communicate this in my art, it seems an almost insurmountable problem. I explore depictions of all the places into which we try to fit ourselves: into a talent, a career, a gender, a religion, a relationship, a diagnosis. None can contain all of the extraordinarily complex beauty of a life. This conflict fascinates me and solving the problems of fitting every beautiful thing onto a single canvas is what brings me back to my studio daily. My oil paintings on canvas showcase layers of vibrant color in a dreamy compound of contemporary realism and storytelling reminiscent of graphic novels.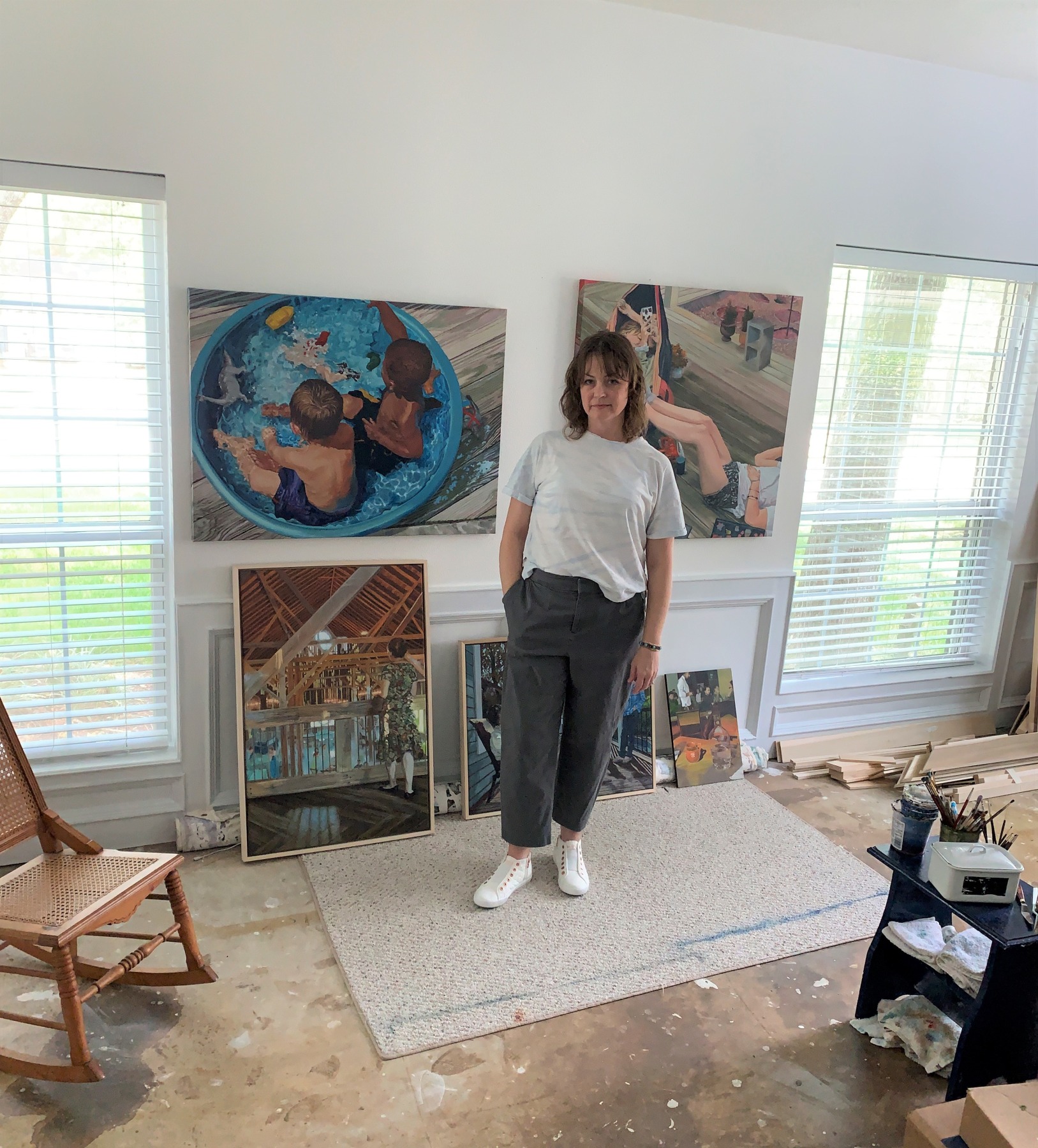 EDUCATION
2014 Master of Public Administration Sam Houston State University
2011 BA, Anthropology University of Houston
EXHIBITIONS & PROJECTS
2022 Resident Artist, Montgomery County Veterans Memorial Commission
Glade Gallery, 'Circle Round,' Dec 2021-Jan 2022, The Woodlands, TX
2021 Small Works Exhibition, Main Street Arts, Clifton Springs, NY
Texas Arts & Crafts Fair
The Woodlands Arts Festival
2020 Center for Contemporary Art National (CCAN), Juror Thomas Motley, Abilene, TX
Arcadia Art Show (AASH) VOL4
Allegany Arts Council 21st Annual Will's Creek National Fine Art Exhibition, 'Shelter'
Providence Art Club National Open Juried Exhibition
Pandemic Art Installation
Assistance League Celebrates Texas Art
Monthly Member Show, Monthly