I treat the vessel as a canvas while accounting for the painful and difficult hierarchies that have kept both women artists and ceramics as a medium historically excluded from the realm of painting and sculpture.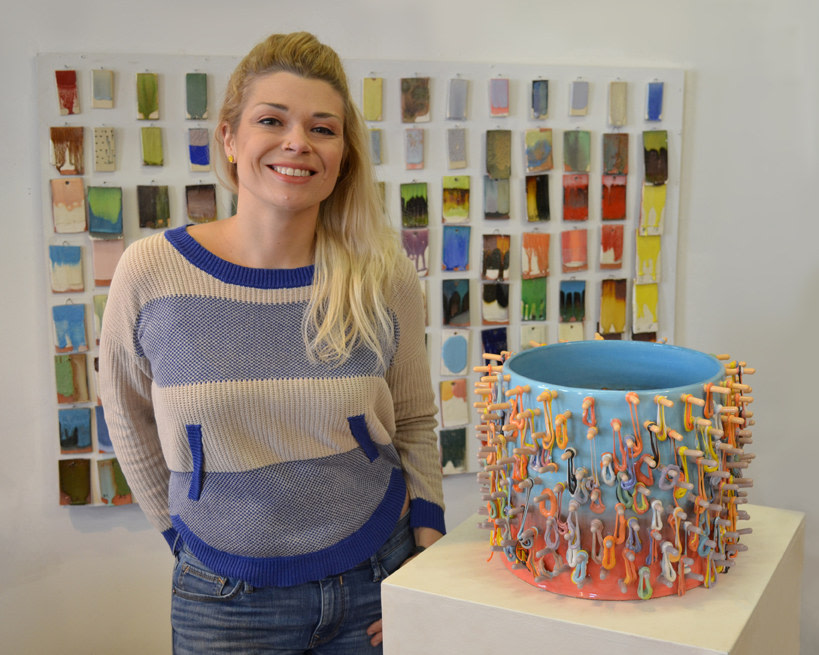 L A U R E N M A B R Y | | | biography
[lives & works – Philadelphia, PA]
LAUREN MABRY is recognized internationally for her bold, dynamic glazes and inventive use of material, color, and form. Her ceramic vessels, objects, and dimensional paintings embrace experimentation as a way to question the boundary between abstract painting, minimalist sculpture, and process art.
Mabry is the recipient of individual grants from the Pew Center for Arts & Heritage, the Independence Foundation, and the National Council on Education in the Ceramic Arts Emerging Artist Award, and she has worked at the Jingdezhen International Studio in China and the Gaya Ceramic Art Center in Bali, Indonesia. Mabry has shown in numerous institutions including the Bemis Center for Contemporary Art (Omaha, NE), Fuller Craft Museum (Brockton, MA) and Milwaukee Art Museum (Milwaukee, WI), and her work is included in the collections of the Nelson-Atkins Museum of Art (Kansas City, MO), Daum Museum of Contemporary Art (Sedalia, MO), Nerman Museum of Contemporary Art (Overland Park, KS), and Sheldon Museum of Art (Lincoln, NE).
In 2007, Mabry completed her BFA from Kansas City Art Institute, and she received her MFA from the University of Nebraska-Lincoln in 2012. She has lived in Philadelphia, PA since 2012 and works out of her independent studio.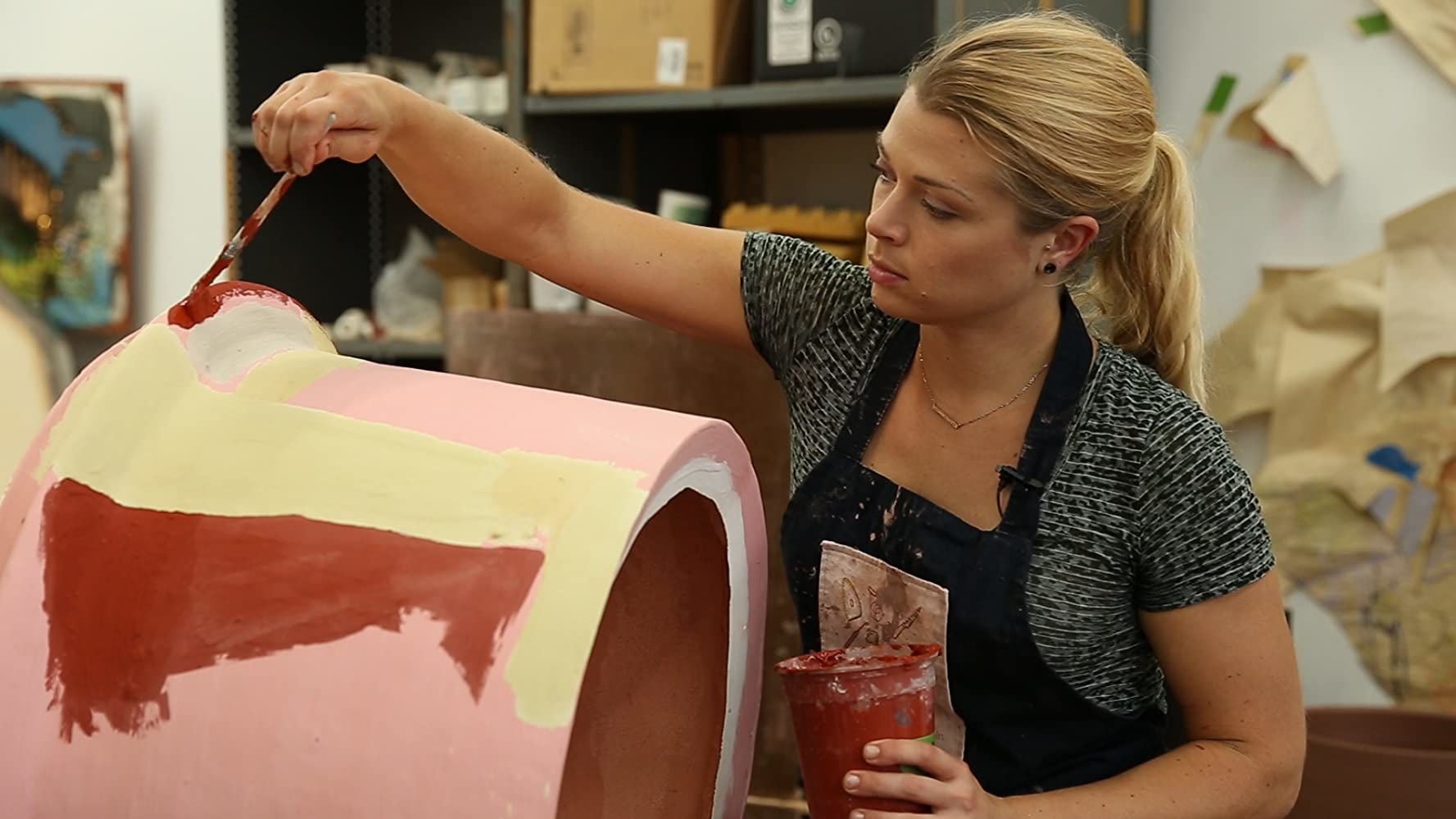 I make ceramic objects, vessels, and dimensional glaze paintings. My work is predicated on a research-driven practice that investigates the history of color theory and material experimentation: to this end, I treat the vessel as a canvas, while accounting for the painful and difficult hierarchies that have kept both women artists and ceramics as a medium historically excluded from the realm of painting and sculpture. Ceramics has long been mistreated as a low art form, and it is my goal to elevate its painterly qualities through a deep and ongoing exploration of surface treatments through pigmentation, glaze chemistry, an understanding of structure and substrates, including underglazing, monoprint transfer, and glaze application, buttressed by a daily drawing practice in which mark making finds its way onto the layers and embedded into the surfaces of my vessels and sculptural constructions. My goal is to create dynamic compositions that push the boundaries of how ceramic materials have been historically perceived. The rich, flowing glazes create hypnotic tones, textures, and forms, and I aim to change the nature of the technical questions craftspeople often get: "how did you do that?" to instead "why did you do that?"
The German-born abstract painter Hans Hofmann utilized "push pull" as a phrase to describe intersecting and overlapping surfaces and geometries upon his own canvases as a means of creating pictorial space, full of expanding and contracting forces. I am particularly taken with the investigates of materiality through historical abstract expressionism like Helen Frankenthaler as well as the color theory that entered American art schools through Josef Albers and other Bauhaus-trained artists. However, I am conscious of the need to interrogate the historical absences of ceramics from these modes of expression. My experimentation is driven by my fascination with color, visual movement, and the transformative nature of ceramics. Primarily, my work communicates directly through its formal and aesthetic qualities by utilizing processes that exploit the intrinsic qualities of ceramic materials. The results are expressive, bold, and often dichotomous: haphazard yet highly calculated.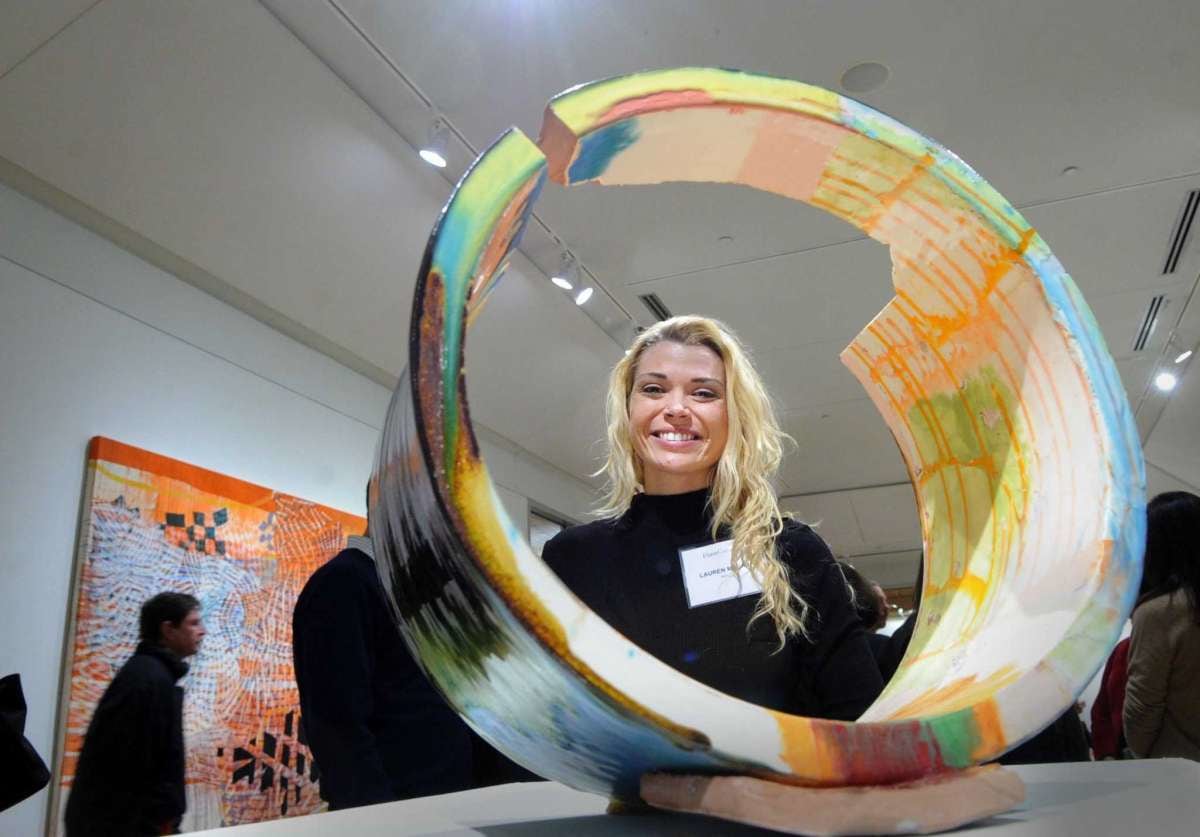 EDUCATION
2012 MFA, University of Nebraska-Lincoln, Lincoln, NE
2008 Post Baccalaureate, Colorado State University, Fort Collins, CO
2007 BFA, Kansas City Art Institute, Kansas City, MO
2006 Study Abroad, International Ceramics Studio, Kecskemèt, Hungary
SELECTED SOLO EXHIBITIONS
2021 Title TBA, Pentimenti Gallery, Philadelphia, PA
Title TBA, Plinth Gallery, Denver, CO
2019 Fused, Ferrin Contemporary, North Adams, MA
2017 Alien Fruits, Gaya Ceramic Art & Design Center, Ubud, Bali
2016 Lavender Fields & Pig's Fat: Work From China, The Clay Studio, Philadelphia, PA
Contain or Deliver, Mindy Solomon Gallery, Miami, FL
2015 Lauren Mabry– New Work, Lux Center for the Arts, Lincoln, NE
Passages, Red Star Studios at Belger Crane Yard Building, Kansas City, MO
2014 Lauren Mabry at Ferrin Contemporary, Leslie Ferrin Independent Art Projects,
North Adams, MA
Emerging Artist Exhibition, Wisconsin Center, National Council on Education for
Ceramic Art, Milwaukee, WI
SELECTED GROUP EXHIBITIONS
2021 New Year, New Art, Jonathan Ferrara Gallery, New Orleans, LA
2020 No Dead Artists, Jonathan Ferrera Gallery, New Orleans, LA
Nature/Nurture, Ferrin Contemporary, North Adams, MA
Tending the Fires: Recent Acquisitions in Clay, Fuller Craft Museum, Brockton, MA
Form Over Function, Pentimenti Gallery, Philadelphia, PA (3 person show)
2019 Breaking The Plane, Jane Hartsook Gallery at Greenwich House Pottery, New York City,
NY (3 person show)
2018 Unexpected Encounters, The Nelson-Atkins Museum of Art, Kansas City, MO
Resident Collection Exhibition, Jingdezhen International Studio, Jingdezhen, China
Permanent Residency, Goggleworks, Reading, PA­­­
2017 Venus Fly, Flinn Gallery, Greenwich, CT (3 person show)
Zanesville Prize Exhibition, Intl. Juried Exhibition, Seiler's Gallery, Zanesville, OH
Groundbreaking: Innovations in Clay, Kimball Art Center, Salt Lake City, UT
2016 Recent American Ceramics, Daum Museum of Contemporary Art, Sedalia, MO
Art Miami, Mindy Solomon Gallery, Miami, FL
Colloquy, Shot Tower Gallery, Columbus, OH
Gradations: A Sense of Successive Stages or Degrees, Strohl Art Center at
Chautauqua Institution, Chautauqua, NY
Sight Unseen by Art Axis, National Council on Education for Ceramic Arts,
Kansas City, MO
Chromaphilia/ Chromaphobia, Grand Arts Building curated for Kansas City
Art Institute, Kansas City, MO
Resident Artist Collection, Taoxichuan Art Museum, Jingdezhen International Studio,
Jingdezhen, China
PERMANENT COLLECTIONS
Fuller Craft Museum, Brockton, MA
Nelson-Atkins Museum of Art, Kansas City, MO
Polsinelli Collection, Dallas, TX
Daum Museum of Contemporary Art, Sedalia, MO
Taoxichuan Ceramic Museum, Jingdezhen, China
LH Project Collection, Joseph, OR
The Sheldon Museum of Art, Lincoln, NE
The Archie Bray Foundation for Ceramic Arts, Helena, MT
Nerman Museum of Contemporary Art, Overland Park, KS
Colorado State University Teaching Collection, CSU, Fort Collins, CO
Ken Ferguson Teaching Collection, Kansas City Art Institute, Kansas City, MO