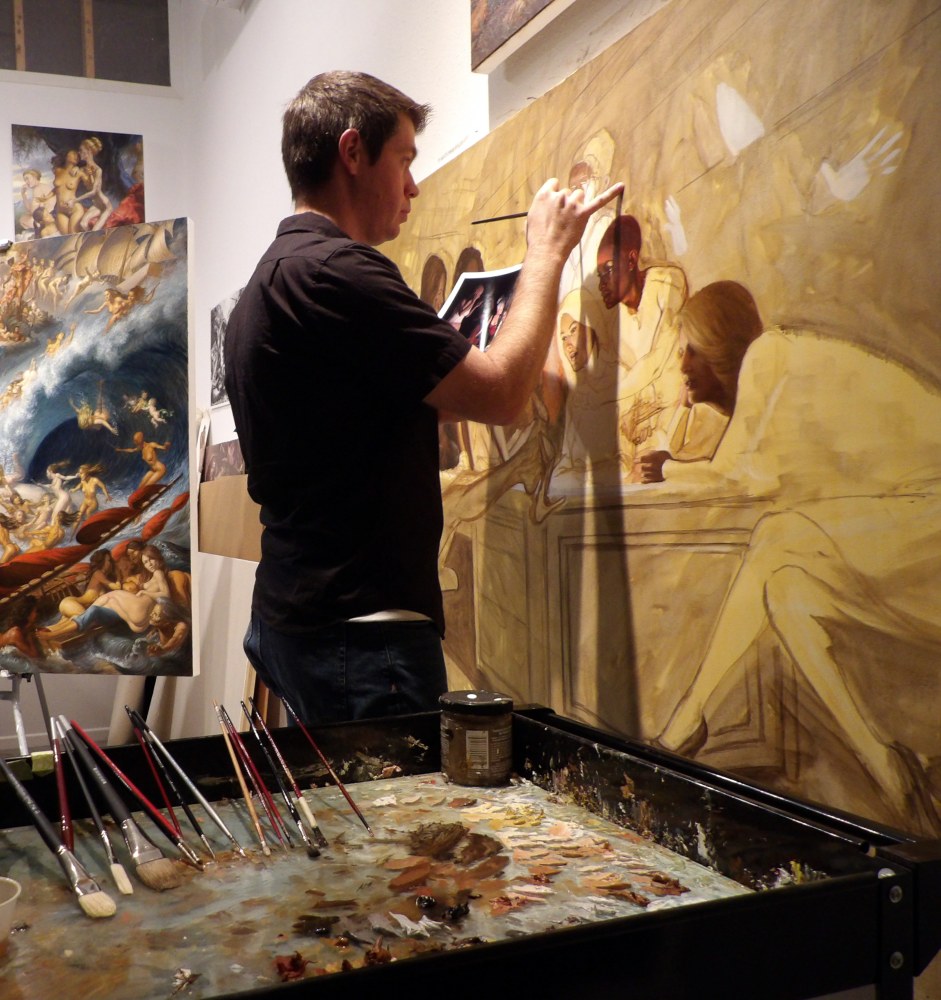 [lives & works – Tempe, AZ ::: born – Texas]
Michael Tole is a figurative painter currently living in Tempe, AZ with his wife and daughters. A Texas native, most of his 20 year long career was spent in Dallas. After relocating to Tempe, his work experienced a significant shift from photo-based paintings of retail interiors to fantastical figurative inventions based on pop culture imagery he has encountered via his two daughters' taste in music videos, and his proximity to Southern California and it's particular brand of Disney-esque hedonism. Mr. Tole's career includes shows in New York, Los Angeles, San Francisco, Dallas, and Miami. His work has been reviewed in Art Forum International, San Francisco Chronicle, Dallas Morning News, and Hi-Fructose.com.
In my current work, The Revisionist Histories, I am writing letters to art history, literature, and mythology in an attempt to redress past wrongs, re-draw archetypes, and reflect the social changes that have reshaped our society over the past century. As part of this agenda, I explore the evolution of gender norms, power dynamics, and representation within Western visual culture and what this implies for the negotiation between pleasure, justice, and our culturally specific discourse on beauty.
Oddly enough, this work is inspired in part by my pre-teen daughters' growing musical interests which exposed me for the first time to the world of music videos (I had a sheltered childhood as my parents couldn't afford cable TV). My daughters are primarily interested in pop divas such as Taylor Swift, Beyonce, Ariana Grande, and Katy Perry. Seeing a number of these videos, I observe that they employ an aesthetic that rests comfortably within Baroque and Rococo parameters, exhibiting chiaroscuro, ostentatious displays of wealth, over-the-top emotionalism, fantasy, self-aggrandizement, pastel color schemes, gender fluidity (a trait more Rococo than Baroque), and heaping piles of conventionally attractive young women in provocative poses. What differs between these eras are the themes of female agency and authorship, among other things. In addition to this, contemporary media from Target ads and Vogue, to Movies and Youtube, reflect social shifts that both borrow from the past, and transform it to reflect a growing sense of inclusivity. This dynamic is what my Revisionist Histories reflect.
We may not normally consider the genre of teen pop music videos and Target ads fodder for philosophical reflection, but the fantasies they create reveal truths about us, and those truths deserve our conscious consideration. To explore this, I set out on a mission to master Baroque and Rococo pictorial rhetoric, believing it to be the best vehicle to explore the continuity and disjuncture between 18th and 21st century Western visual culture. This tactic reflects Derrida's assertion that a text/tradition must be deconstructed from within. Employing this tactic, I intend to create paintings that can hang side by side with old master works in a museum that, viewed at a glance, do not stand out from their neighbors, but upon further inspection begin to reveal to the viewer those aspects of culture that have evolved, and those that have remained the same over centuries, inviting comparison, analysis, introspection, and perhaps a chuckle.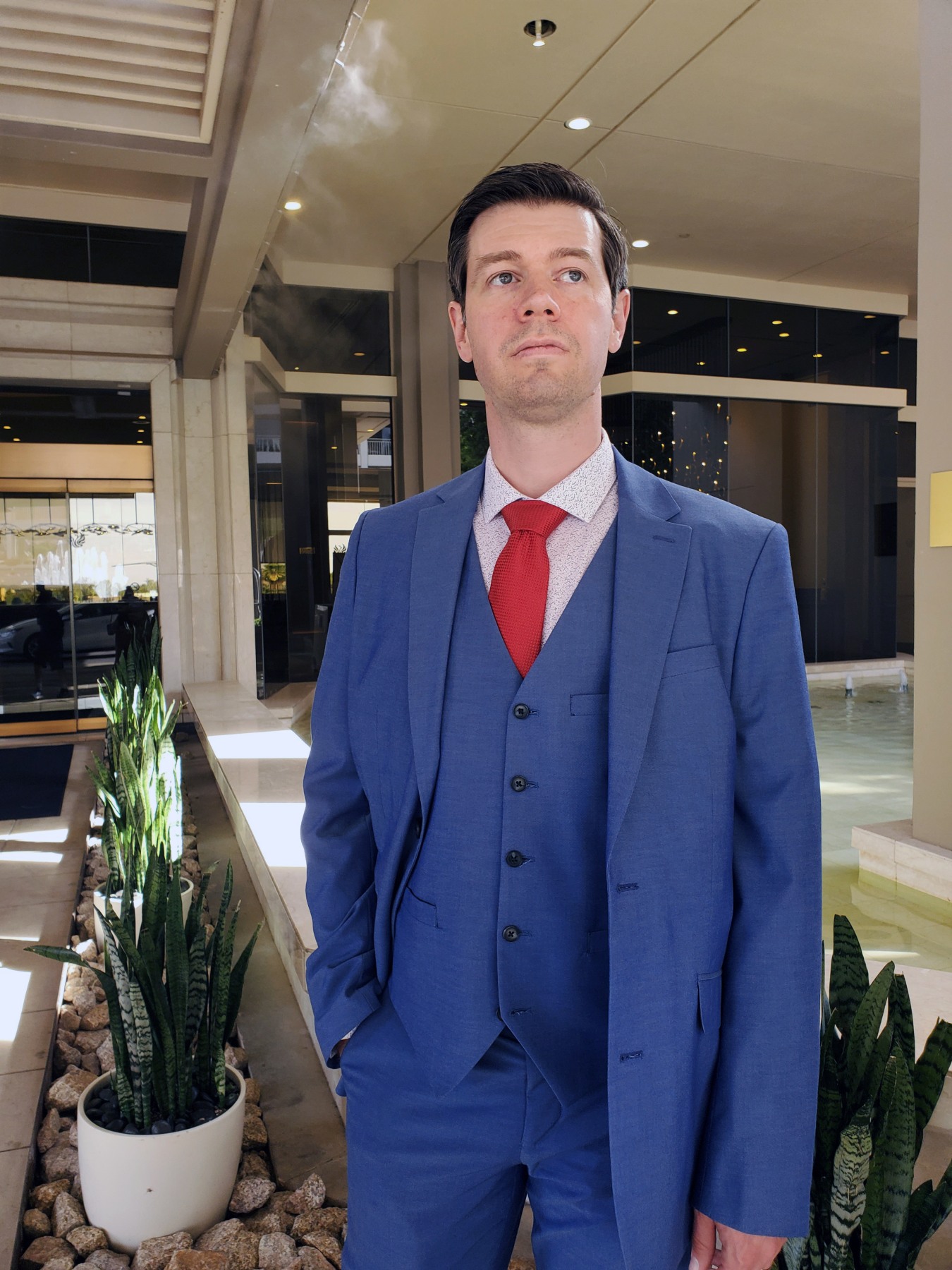 EDUCATION
2011 MFA, Painting and Drawing, University of North Texas, Denton, TX
2000 BFA, Studio Art, University of Texas at Austin, Austin, TX

GRANTS/AWARDS
2010 London International Creative Competition; Shortlist; London, UK
2008 London International Creative Competition; Shortlist; London, UK
2007 Hunting Art Prize, $50,000 Cash Award, Hunting Ltd. Houston, TX
2006 Kimbrough Grant, Dallas Museum of Art, Dallas, TX
SOLO EXHIBITIONS
2013 It Was the Body Which Despaired of the Body; Conduit Gallery, Dallas, TX
2011 Blessed With all the Thunder in the World; Conduit Gallery, Dallas, TX
2010-2011 Struck by Lightning More Than Once, She Didn't Yield; Galveston Arts Center, Galveston, TX
2009 The Poniard Twists…My Mutiny; Conduit Gallery, Dallas, TX
2009 What World Behind Those Ruby Eyes; Caine Schulte Gallery, San Francisco, CA
2007 Some Queer Noisy Pendulum; Conduit Gallery, Dallas, TX
2004 I Think I Prayed for You to Come, But Wasn't Prepared for the Reality; Conduit Gallery, Dallas, TX
2002 Conduit Gallery Project Room, Dallas, TX

GROUP SHOWS
2021 California Open 2021, TAG Gallery, Los Angeles, CA
2021 Not An Art Fair, Shock Boxx Gallery, Hermosa Beach, CA
2021 Madre, Shock Boxx Gallery, Hermosa Beach, CA
2017 Benedictine University Faculty Show, Lisle, IL
2016 Benedictine University Faculty Show, Lisle, IL
2015 Schism, Manifest Gallery, Cincinnati, OH
2014 Benedictine University System Faculty Show, Lisle, IL
2012 University of North Texas Faculty Show, Denton, TX
2012 The Medium is the Message, UT Arlington Gallery, Arlington, TX
2011 Dallas Art Fair, Dallas, TX
2010 Next Chicago, Chicago, IL
2010 Inaugural Group Show, Caine Schulte, CA
2009 Dallas Art Fair, Dallas, TX
2008 The Art of Describing, Gallery 10G, NYC
2008 Aqua Wynwood, Miami, FL
2007 Red Dot, Miami, FL
2002 Stephen F Austin State University, Nacogdoches, TX
2001 500 X Gallery, Dallas, TX