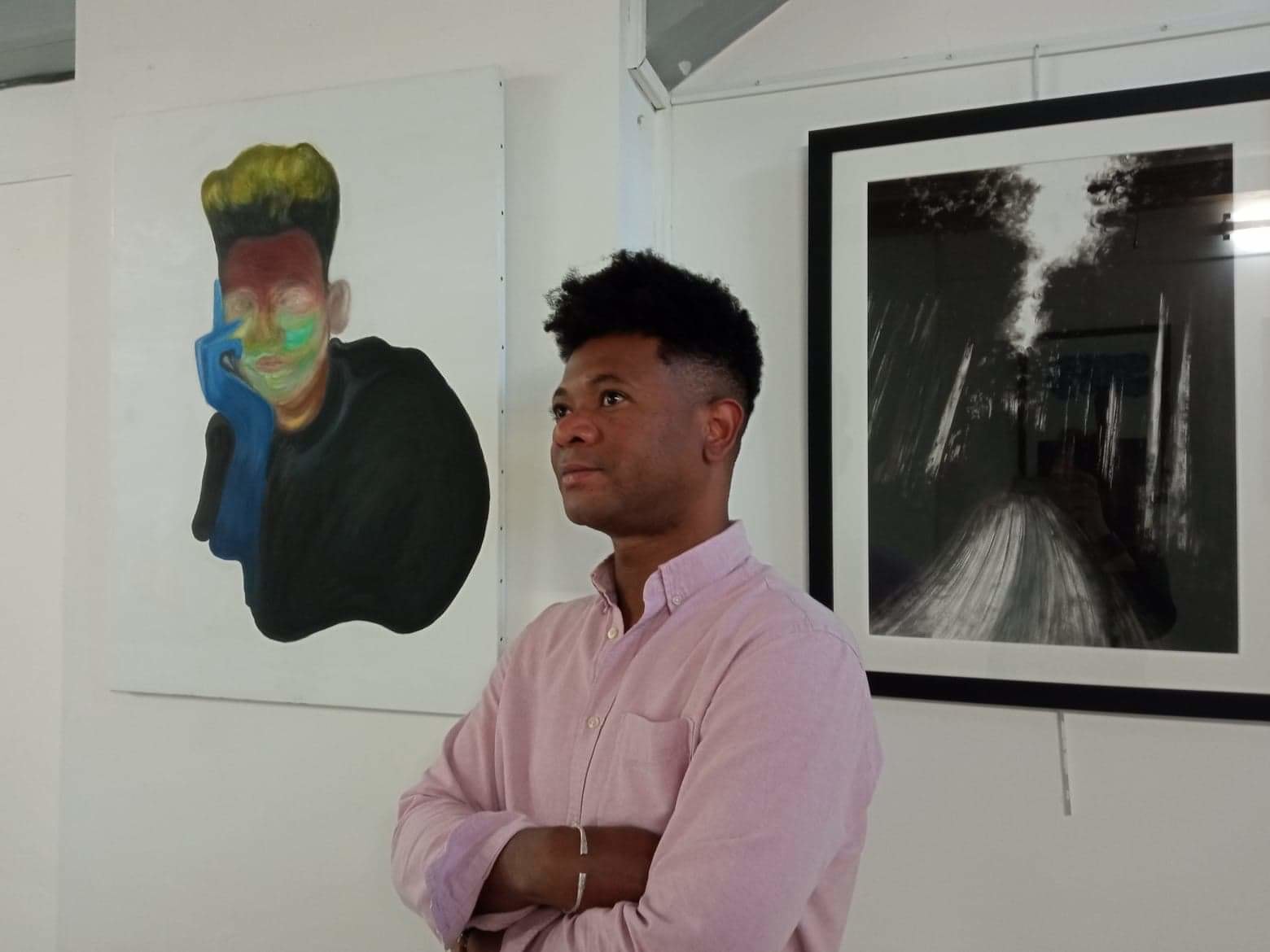 Nick is a self-taught painter, painting since he was 11 years old. He arrived in France in 2001, for family reasons. With a wide range of styles, he works a lot on drawing, landscapes, genre scenes
realistic, expressionist figures, and the figural abstraction.
The use of oil paint, whether on paper or oil, dominates his work. The landscape, dominated by trees, portraits and genre scenes on large formats are the subjects he has been working on for the past five years. Part of this work was exhibited at the Galerie de l'école Esdac, in Aix-en-Provence, in 2017 and 2022.
Black and white in the landscape, chiaroscuro for genre scenes and abstract figuration for more expressionist work are his technical research themes, developed and concretized in the works presented. The technique of the series, in triptych for example, is the means that he uses quite often to exploit a theme and its variations.
His influences range from Rembrandt, to Van Gogh and Francis Bacon. After studying modern literature and cinema, he devoted himself to painting, the production of experimental videos and poetic writing.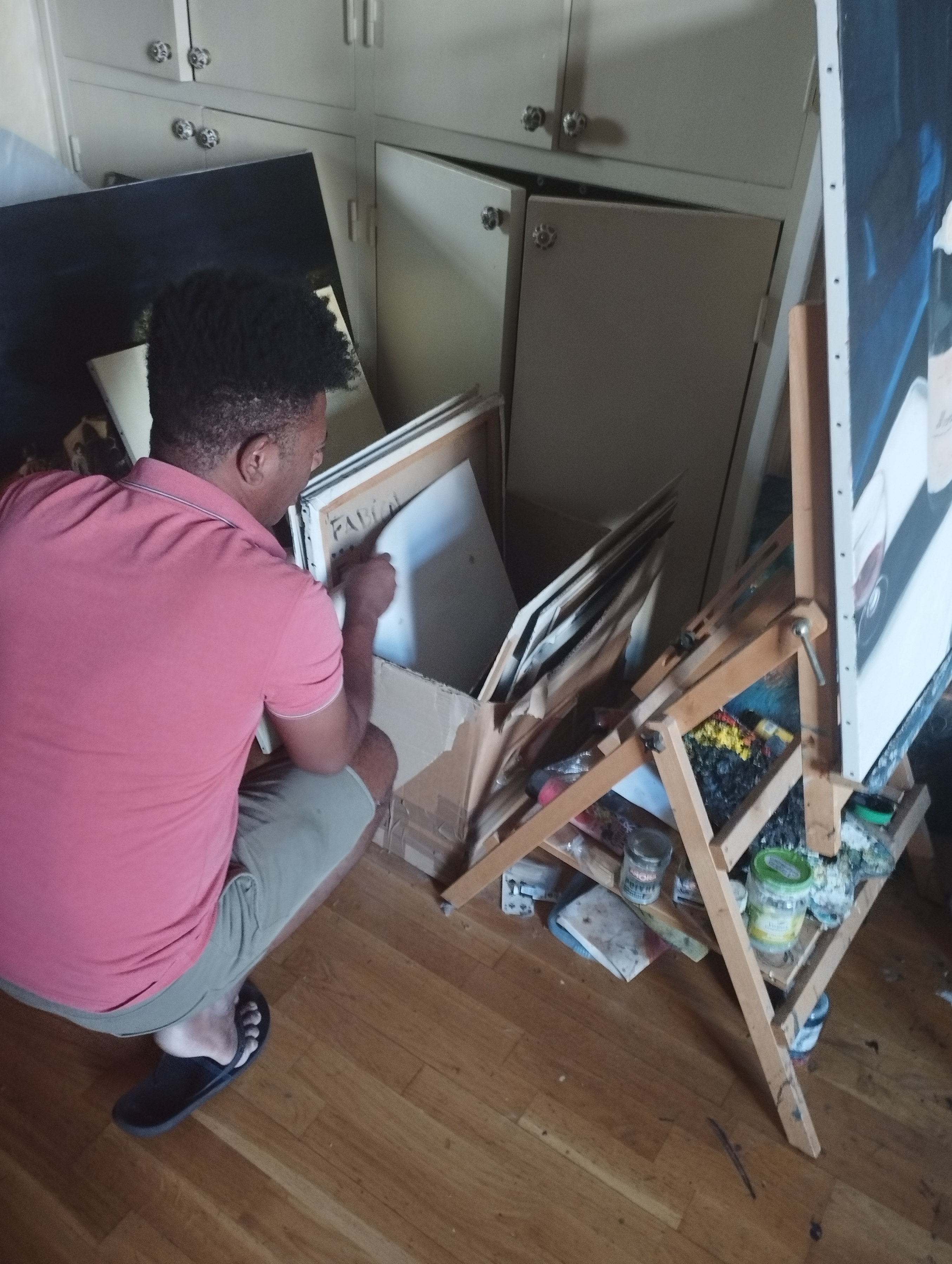 Féria 1 and 2, counterpoint within a series of chiaroscuri, shadows and lights, and reverse angles, arrived on a fine day of may 2021 at the heart of the evolution of the artist's work. It was first necessary for Nick to go through his own rational and constitutive stages crafting an artwork, a proper artistic form, beyond the prototypes and spontaneous ideas that animate every creative mind. The construction of the paintings' scenic space had to previously unite its components and form a coherent whole, a visually significant and original ensemble. Prior to this, the artist first "welded" his relationship to the world; a delicate obligation for him and one that required nearly 10 years of work, with a first period during which the arrivalof his characters on Earth was imprecise, blurred, distorted, such as a galactic birth that takes its time to regulate its physical and tangible relationships. The "Puppen" (serial), in the shape of star-characters, of human galaxies, axiomatize a version of progress with progressive intensity, becoming Grace, a softness taken over by the canvas making life acceptable in its exceptional form. A cure of deep reality was needed to counterbalance such a vital and universal energy, as well as to find back an immediate and concrete dimension. Nature thus imposed itself, logically. But not in the conformism of a classical representation, of a simple narration. Nick creates a nature that is vibrant, loquacious, detailed, full of its own intimate exigency, of its own unattainable logic. The artistic attachment, the interpretative force, the direct link with the Earth and it's inhabitants in Natura is the world of excellence and evidence that runs through this unfinished and ongoing series, allowing to understand the logic of the artist: a deep attachment to everything in its real evidence. Indeed, from the flying souls of the Puppen series to the major trees of Natura, the same process of transcendence and uniqueness of life is at work Finally, with Féria comes the passion, so long internalized within the artist, for chiaroscuro, for backlighting, where his rembranesque and cinematographic culture merge to form large canvases that could be extracts of chimerical films from a time when cinema was made in such fashion, more precisely paint freezing an inner space-time, a moment of intense crackling in which "something" happens, and which attracts the mind like a complex mechanic in which each cog plays a role that must be materialized by the mind to be understood. The circumstances, the characters, the whole world that surrounds, are visibly not of the liberatory, the dreamlike, the narcissistic expression of collective enjoyment, but of contrition, of the search for the semiological compromise between the characters, of their inaudible dialogue about the world and its provocative time. This human force, henceforth impotent and solitary within a nature which is taking back its shapeless rights, claiming its excesses and spreading its own wings signs Féria, as a process of evolution of the artist's technique, as well as his intimate analysis of his rapport to the world.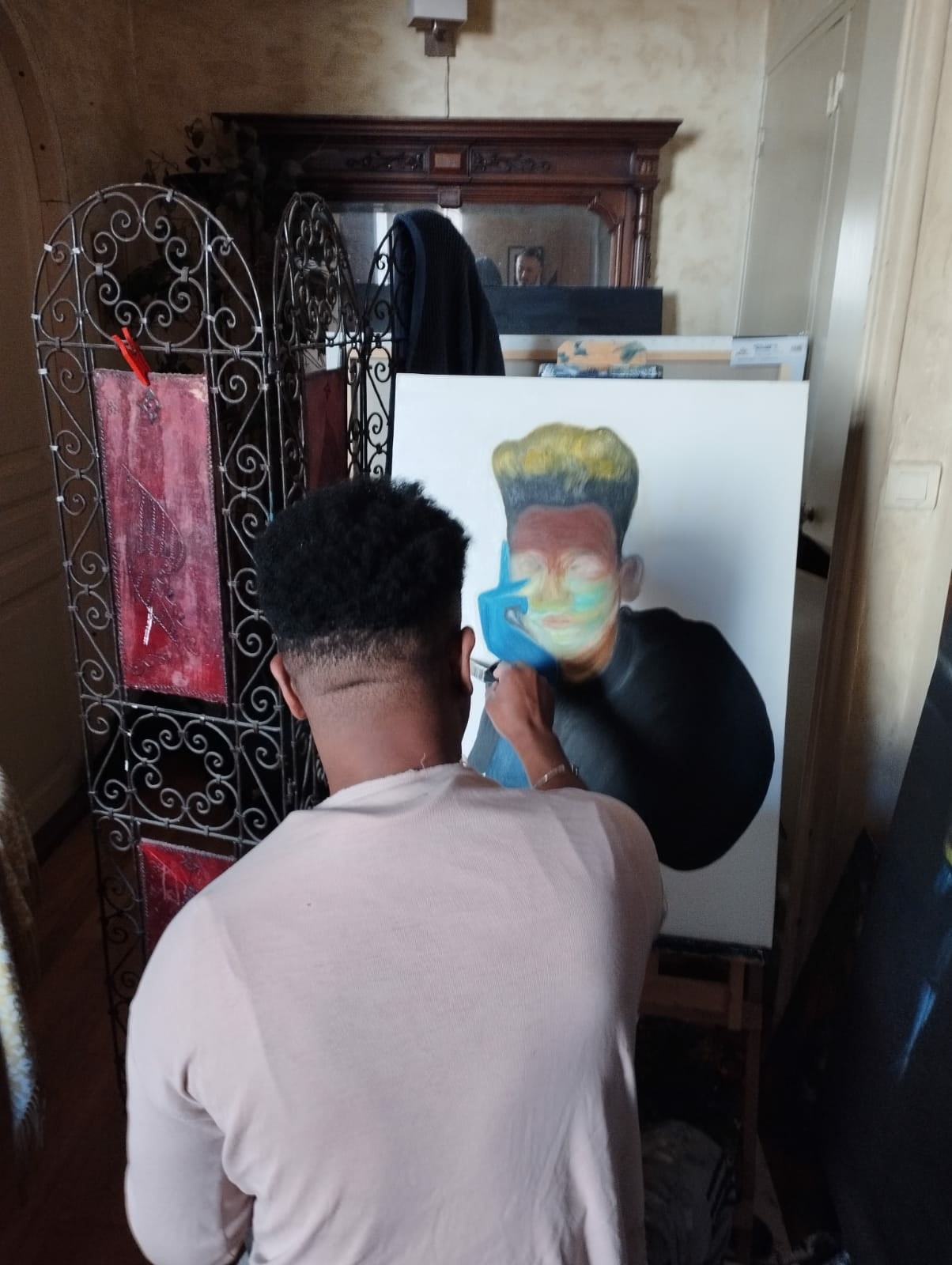 EDUCATION
2004 French Language and Literature, Université de Provence, Aix-en-Provence
2007 Bachelor degree & Master Cinema-audiovisual
EXHIBITIONS
2017 Galerie de l'école Esdac, « Natures Intimes », Aix-en-Provence
2022 Galerie Ephémère, Irma Moreau, « Natures Intérieures », Aix-en-Provence