"The dilemma of making paintings after its 'death' and 'return' is to choose which legacy to embrace. Calvert's paintings are palimpsests, archeological digs, engagements with art history, improvisational riffs, and fractured views. They wrestle with painting's dual legacy without settling on an answer."

- John Yau, Hyperallergic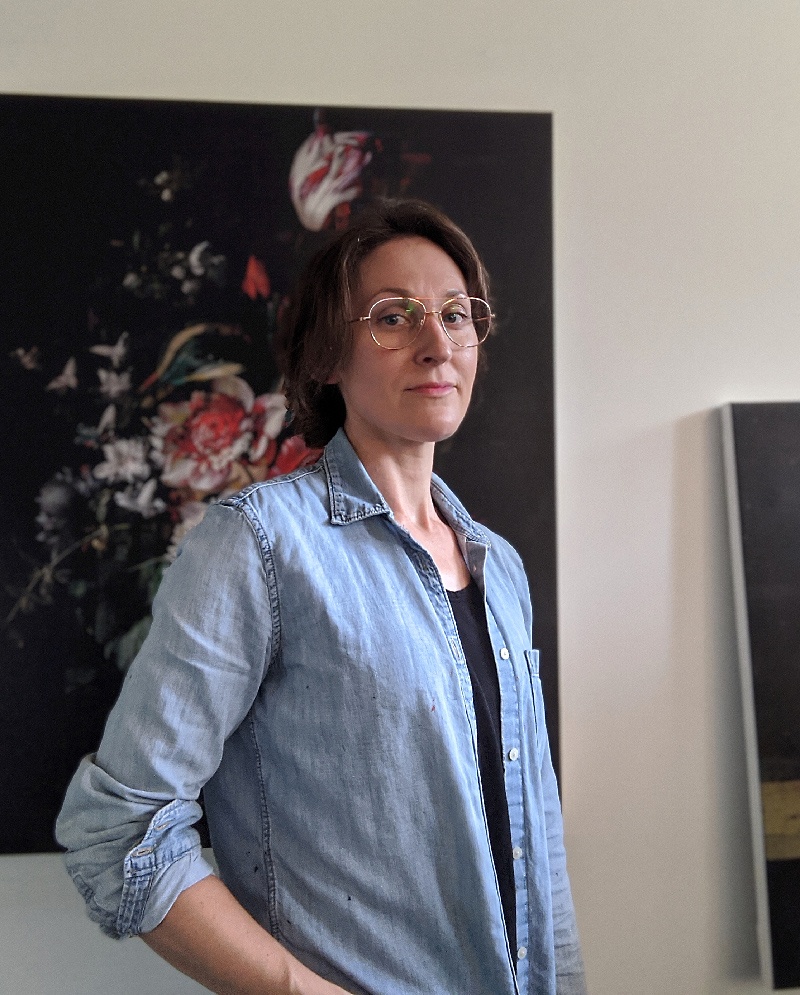 T I F F A N Y C A L V E R T | | | [Louisville, KY ::: b.1976 Hanover, NH]

Tiffany Calvert has exhibited her work in the US and abroad including Lawrimore Project in Seattle, E.TAY Gallery in New York, the Speed Museum in Louisville and Cadogan Contemporary in London. Residencies include the Djerassi Resident Artists Program, I-Park, and ArtOmi International Arts Center where she received a Geraldine R. Dodge Fellowship. Calvert has received grants from the Great Meadows Foundation and the Pollock-Krasner Foundation. Her work was recently profiled by critic John Yau in the online journal Hyperallergic. Her curatorial projects include "Some Abstraction Occurs" at 65GRAND Gallery in Chicago and "Magic" at Mercer College (featuring work by Chris Martin, Karla Knight, and Sarah Peters), which identified a trend in artists whose works address the otherworldly or magical.
Calvert's current paintings investigate the relationship between digital media and the reception and perception of images, and utilizes diverse technologies such as fresco, 3D modeling, AI and data manipulation through code. She is especially interested in the evolution of pictorial space. Today we view our screens and the world they occupy as a shallowly layered space of overlapping desktop windows. The picture plane has tilted up again from the flatbed to float in front of our eyes. Calvert's paintings in turn depict an intermediate space, where the verticality of the still life paintings cohabitate with these digital panes.
Dutch floral still life paintings encapsulate multiple concerns. Their subjects were botanical fantasies, emblems of an economic mirage that has contemporary corollaries. Most important to Calvert's pictorial concerns, they depict ephemeral things in shallow and diagrammatic space - they are all foreground. They contain an abundance of visual information in overwhelming density, creating an allover resolution; a visual field that is equivalent to digital noise. By making painterly interventions into reproductions, Calvert attempts to dissolve the layer between the resolution of the source image and abstraction of the painted mark.

She is currently Associate Professor of Art and Director of Graduate Studies at the Hite Art Institute, University of Louisville.
EDUCATION
2005 MFA Mason Gross School of the Arts, Rutgers
1998 BA with honors, Oberlin College
SELECTED EXHIBITIONS
2020 Past Performance as Indicator of Future Outcomes: an exhibition of work by women who use
Artificial Intelligence in their art making process, Carnegie Center for Art & History, IN
S/ample Data, Tinney Contemporary, Nashville
Art in Doom, Jonathan Ferrara Gallery, New Orleans
solo exhibition (Title TBD), Moremen Gallery, Louisville
2019 SH/FT: Tiffany Calvert + Alex Kanevsky, Susquehanna Art Museum, Harrisburg PA
2018 Spring, Cadogan Contemporary, London UK
Semper Augustus, Moremen Gallery, Louisville KY
Something Pretty, Morlan Gallery, Transylvania University, KY
2017 Tiffany Calvert: Rainbow Chaos, Arkansas State University, AR
The Prolonged Gaze: Tiffany Calvert, Vian Sora, and Nhat Tran, guest curated by Mirada Lash, Curator of
Contemporary Art at Speed Museum, Zephyr Gallery, Louisville, KY
Synthesizing Nature, The Center for Contemporary Art, NJ
New Recruits, Cressman Center for Visual Arts, Louisville KY
2016 Verblist, curated by Mark Joshua Epstein, E.TAY Gallery, New York, NY
Synthesizing Nature, View Art Center, Old Forge NY
every thing every where, Brick + Mortar Gallery, Easton PA
Tiffany Calvert, tenure exhibition, Raritan Valley Community College, NJ
2015 Solo exhibition, Carl & Sloan Contemporary, Portland OR
The Memory Palace, Cedar Crest College, PA
2014 The Last Brucennial, The Bruce High Quality Foundation, NY
The Dam Show, Reservoir Art Space, Queens NY
2013 Collapse, Visual Arts Center, Mississippi State University, MS
PILF #1, Sunset Park Studios, Brooklyn NY Ortega y Gasset Gazette, online
2012 Humus: Landscape Painting Across a Spectrum of Abstraction, The Center for Contemporary Art, NJ
Dystopian Delight, Mike Rollins Fine Art, New York, NY
SELECT COLLECTIONS
21C Hotel + Museum
Fidelity Investments Corporate Collection
Art Omi Collection
Hudson County Community College Foundation
Omni Hotel
Various Private Collections