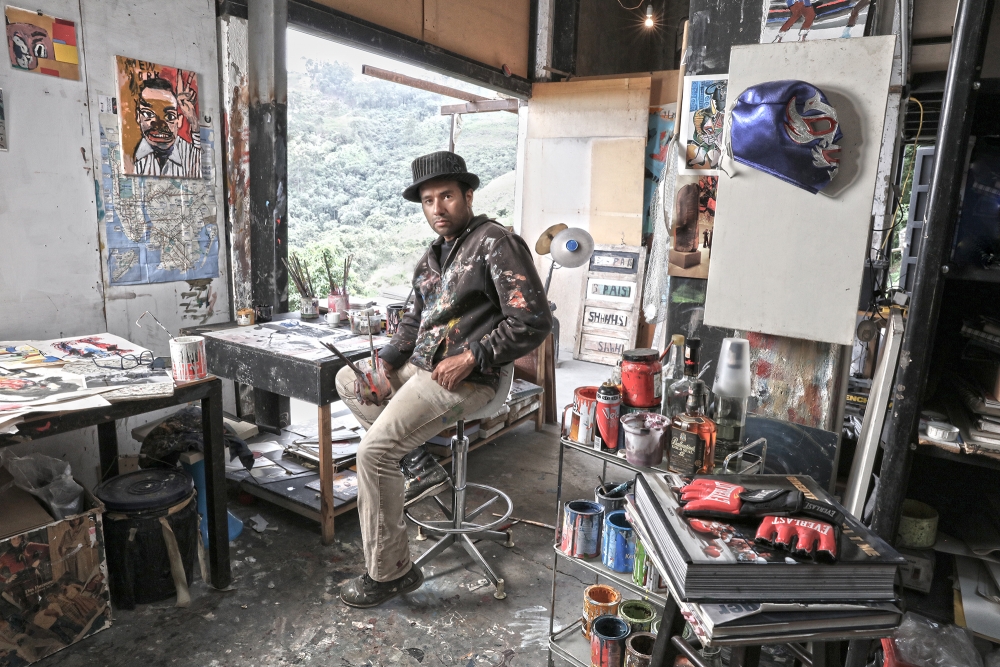 [lives & works – Miami, FL ::: born 1977 – Maturin, Venezuela]
STARSKY BRINE's paintings and drawings captivate audiences with their distinctive style and a recurring theme, the search for the nature of humanity. In his bold works, the artist focuses on characters that are built from a combination of anthropomorphic and zoomorphic features, as well as the appropriation of elements from comics and toys from his childhood.
On the one hand, these characters distort reality to venture into an environment of subcultures and urbanism created by the spontaneous intuition of his strokes and the appropriation of the contemporary iconography. On the other hand, they move within the realm of fantasy. In particular, the animals paired with their human characters evoke associations with fairy tales or comics. They are reminiscent of the world of theatre, in which fantasy and poetry but also comedy often serve as catalysts for the creation of critical meaning.
With his works, Brines often questions the interplay of good and evil against the background of the worldwide socio-political climate. Yet Brines does not interpret his themes as 'black and white.' They are complex and nonlinear, with charming disruptions, quite serious and yet full of humor.
Brines is personally influenced by his mother and art historically influenced by Latin American figurative art, the German Neoexpressionism, the Italian Transavantgarde, and the COBRA group. His works oscillate between figuration and abstraction. Brines holds a degree in Fine Art from the Instituto Universitario de Estudios Superiores de Artes Plásticas Armando Reverón in Caracas.
His work has received international attention in exhibitions and has been incorporated into important collections in cities such as Caracas, Basel, Buenos Aires, Bogota, Santander, Miami, Madrid and Seoul.
"Since the prehistory, the human being has shown changes of character and thinking but their short lifetime task has remained untouched: their struggle to reach invisible forces will always be the same regardless their hunts, be it mammoths or the moon itself."
Sigfried Giedion
The animal character in my work is ambivalent: On the one hand, it shows fury, savagery full of the human essence on earth; and on the other hand, it embodies the idea of sacred presence and essence serving as an echelon between both the alienated world and nature, far perceived as a strange element.
My work deals with our very timeless relationship and bounds with the animal idea. By means of humour and curiosity, I have searched in this edge-free universe where we build a common conscience within our reality. I enjoy the idea of animality and its representation in the human culture by resorting to sacred texts, heroes fighting beasts, fairytales and our time, full of animal image showing screens. It is so obvious that we barely make it to integrate it due to its proximity and inadvertency.
The ongoing time pushes us to dig into the hidden side and urges us to look into ourselves as to understand that the alienation is an illusion. Likewise, we understand that the bond to the "other" sacred wild archetypal reality rests in every corner of our cultures, thus calling to mind what our essence is in time of vulnerability.
Outside of myself is an affirmative call to recognise my obsession to show myself rather than the world, to build a mirror reflecting me in others.
For years, I have been playing with those ideas from different angles, particularly from my lifetime in a city like Caracas and my memories about its fury, violence and savagery seen in the chaos. It was an unique beautiful opportunity to sense the primary pulse that has never deserted me by allowing my establishment of a visceral, spontaneous and permissive relationship to painting. Now, in times of surviving and vulnerability due to the pandemic or my condition as an immigrant, it is still necessary to call for our natural force and, as an alchemist himself, transform, translate, play and feel what is inside and outside of ourselves to give birth to those hybrid and promiscuous images that heal and calm myself down.
Each work is a spontaneous occurence, moved by the pulse of acts in painting in connection with me, digging into myself, without turning a blind eye to what I sense on the multilingual Miami streets where I take sensations from. With events taking place, news on losses and healing, these works were taking form on a daily basis, patiently doing what I love, filling canvases with colours, playing with them and their meanings, aware of the storytelling of strange and unbelievable experiences.
Outside of myself is the result of succeses and upsets, failed tries, frenetic chaos, missing knowledge and hugs. It is perhaps a short instant of uncertainty that overwhelmed us to wake up our animal, essential, wild, sublime and sacred side in our creative energy.