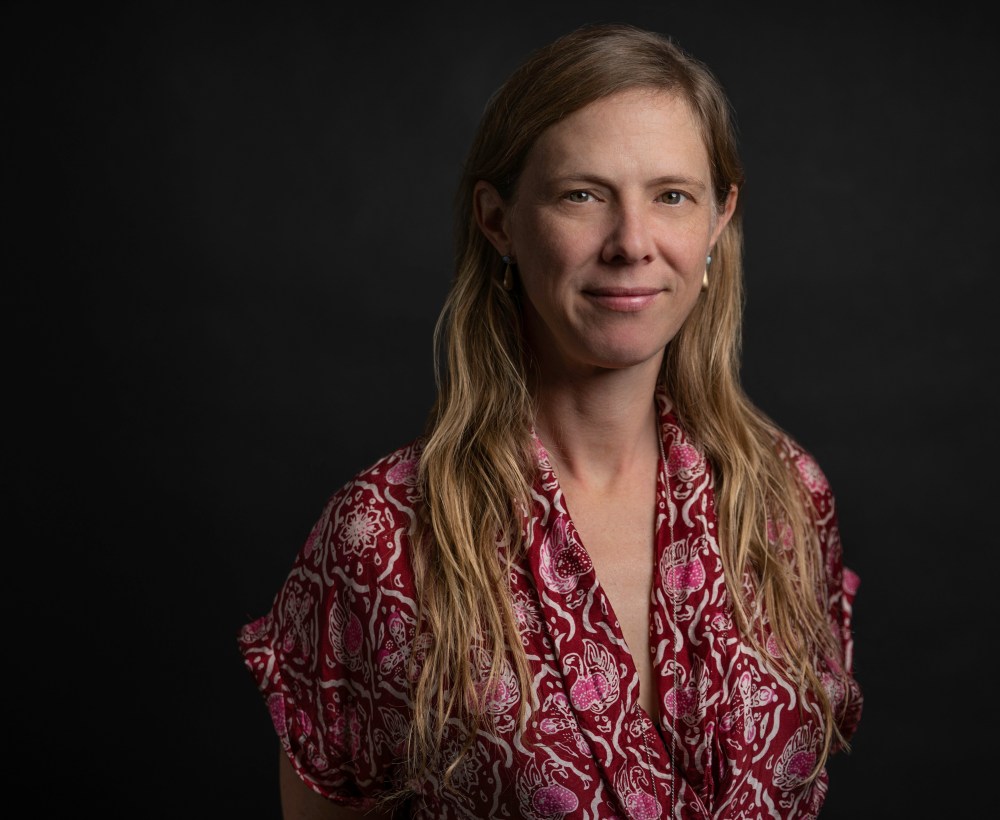 [New York, NY ::: b. 1973 - St. Louis, MO]
LISA SANDITZ was born 1973 in St. Louis, MO. In 1994 she studied at the Studio Art Center International in Florence, Italy. In 1995 she received her BA from Macalester College, St. Paul, MN and in 2001 graduated with an MFA from Pratt Institute in Brooklyn, NY. In 2005 she was selected by Creative Time and United Technologies to participate in an outdoor mural project where three commissioned artists, also including Alex Katz and Gary Hume, have painted site-specific paintings to be repainted on billboards in lower Manhattan. She is a 2008 Guggenheim Fellowship Recipient and currently lives and works in New York.
Recenet solo shows include Huxley Parlour Gallery, London, UK, 2020, with a show entitled, "Mud Season,"and at Jonathan Ferrara Gallery, New Orleans, LA 2019, with, "Deep Woods". She has had multiple solo shows at CRG Gallery, New York, NY, Acme Gallery, Los Angeles, CA and Rodolphe Janssen Gallery, Brussels, Belgium.
Recent group exhibitiosn include "Unnatural-Nature, Post-Pop Landscapes," curated by Todd Bradway at Acquavella Gallery, in New York, NY and Palm Beach, FL, "Cross-Pollination," curated Kate Menconeri and traveled from the Thomas Cole Site to Crystal Bridges, AR. Sanditz will have work in a group show at Asya Geisberg Gallery this June, curated by artist, Melanie Daniel. Past group shows include Freight and Volume Gallery, NY, a project of Prospect New Orleans at Jonathan Ferrara Gallery curated by Dan Cameron, Thomas Cole Site, Catskill, NY, CES Gallery, LA, CA, Bushel Gallery, Delhi, NY, The Nerman Museum, Oakland Park, KS and The Girls Club, Ft. Lauderdale.
Sanditz' work is in a number of private and public collections, including The Fogg Museum, The Saint Louis Art Museum, The Dallas Museum and The Herbert Johnson Museum, Ithaca, NY. Her work was included in Landscape Painting Now, Barry Schwabsky, edited by Todd Bradway, DAP, 2019. She has been reviewed in a number of publications including, The New York Times, Art Forum, Hyperallergic and in an interview with Kanishka Raja in Bomb (2017).
Recent special projects include, a community mural project done at Mill Road Elementary School, Red Hook, NY and The Amazing Pollinator Guide, done in collaboration with artist and fellow pollinator lover, Emily Sartor, published by the Thomas Cole Site and Olana Historic Site.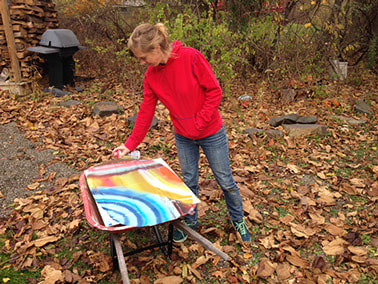 I have spent twenty years painting the landscape as a reflection of cultural values, finding stories in the messes we've made and uncanny glimmers in the spaces we shape and traverse.
I often work on large complex narrative paintings that are sparked from absurd, joyous and painful stories that may be personal (School Pick-up, 2022) or encountered in the news cycle (Testicle Tanning, 2022). They are often situated in the landscape, but sometimes make their way into the interior. When working from life, I make drawings and take photographs on site in the performative plein air tradition, "Shh… look she's painting…." In these small paintings, I work-out color explorations and find moments of solace and clarity- a brief break from zooming and parenting and teaching and and worrying and cleaning and protesting. I live and work in New York's Hudson Valley, an area notable for its historic Hudson River school paintings, jammed with squeaky-clean realism, macho colonialism and epically lush views.
My small landscape colors studies are unabashedly romantic and dazzling color studies of places motsly close to home. Then I return to the studio and recreate altered versions of the scene, where the spaces and saturated colors invert and bleed and disorient.
EDUCATION
2001 M.F.A. Pratt Institute, Brooklyn, NY
1995 B.A. Studio Art, Macalester College, St. Paul, MN
1994 Studio Art Center International, Florence, Italy
SELECTED SOLO EXHIBITIONS
2023 Huxley Parlour Gallery, London,UK
2023 Jonathan Ferrara Gallery, New Orleans, LA
2020 Catshit in Mud Season, Huxley Parlour Gallery, London,UK
2019 Deep Woods, Jonathan Ferrara Gallery, New Orleans, LA
2014 Surplus, CRG Gallery, New York, NY
2013 Jack-O, Isolation Room, St.Louis, MO
2010 Stateside, ACME Gallery, Los Angeles, CA
2009 Underwear City, Rodolphe Janssen Gallery, Brussels, Belgium

SELECTED GROUP EXHIBITIONS
2022 Cross Pollination: Heade, Cole, Church and our Contemporary Moment, Crystal Bridges Museum of American Art, Bentonville, AK.
Unnatural Nature: Post-Pop Landscapes, curated by Todd Bradway, Acquavella Gallery, New York, NY and Palm Beach, FL
Group Show, curated by Melanie Daniel, Asya Geisberg Gallery, New York, NY
Lisa Sanditz and Ruth Owens, Two-person booth, Volta Art Fair, New York, NY
2021 Cross Pollination: Heade, Cole, Church and our Contemporary Moment, exhibition, originating at Thomas
Cole Site, Catskill, NY and Olana Historic Site, Catskill, NY, curted by Kate Menconeri
Landscape and Memory, Pamela Salisbury Gallery, Hudson, NY
You Might Believe You're There, Girl's Club, Fort Lauderdale, FL
From Morning Til Night, We Should Never Rely on a Single Thing, Philip Martin Gallery, online, curated by Tomory Dodge
Huxley Parlour Exhibition Booth, Untitled Art Fair, Miami, FL
2020 Cross Pollination: Heade, Cole, Church and our Contemporary Moment, Cummer Museum of Art,
Jacksonville, FL, traveling exhibition, curated by Kate Menconeri,
2019 Waking Dream, Freight + Volume Gallery, New York, NY
2018 Lisa Sanditz + AL Steiner, Bushel Collective, Delhi, NY
Spectrum, Thomas Cole Historic Site, Catskill, NY, curated by Kate Menconeri and Kiki Smith
Oscillation, curated by Dan Cameron, Prospect New Orleans, Jonathan Ferrara Gallery New Orleans, LA
2017 Psychonautics, CES Gallery, Los Angeles, CA Group show, ACME Gallery, Los Angeles, CA Post-election,
September Gallery, Hudson, NY
2016 Representing Rainbows, Gerald Peters Gallery, New York, NY
Plot Points, Honey Ramka Gallery, Brooklyn, NY
Faculty Show, Bard Studio Arts Program, Bard College, Annandale-on Hudson, NY
Convene, Four-person exhibition curated by Bruce Hartman, The Nerman Museum, Kansas City, KS
Group Show, Arthur Rogers Gallery, curated by Jim Richard, New Orleans, LA
2015 The Moment. The Persona. The Backdrop, Girls Club Foundation, Fort Lauderdale, FL
World Without End, Group Show, Brian Morris Gallery, New York, NY and Silvermine, Norwalk, CT
Embodied Place, Sierra Nevada College, CA

SELECTED SPECIAL PROJECTS AND AWARDS
2015 Anonymous Was A Woman, Grant Recipient
Vermont Studio Center, Johnson, Vermont, Artist-in-Residence
Girls Club Collective, Fort Lauderdale, FL, Visiting Artist
NSECA and CAA, panel participant
2014 Prensky Island Press, Sam Fox School of Art, Washington University, St.Louis, MO, visiting artist
and lecturer
2010 San Francisco Art Institute, San Francisco, CA, Winifred Johnson Clive Fellow

SELECTED PUBLIC COLLECTIONS

Smithsonian Museum of Art, Washington, DC
St. Louis Art Museum
West Collection, Oaks, PA
Nerman Museum of Contemporary Art at Johnson County Community College, Leawood, KS
Columbus Museum of Art, Columbus, OH
The Fogg Art Museum, Harvard University, Cambridge, MA
Herbert Johnson Museum of Art, Cornell University, Ithaca, NY
Smith College Museum of Art, Northampton, MA
The Dallas Museum Of Art, Dallas, TX
The Kemper Museum of Contemporary Art, Kansas City, MO
University of Michigan, East Lansing, MI
The Charlotte R. Bloomberg Children's Center, The Johns Hopkins Hospital, Baltimore, MD