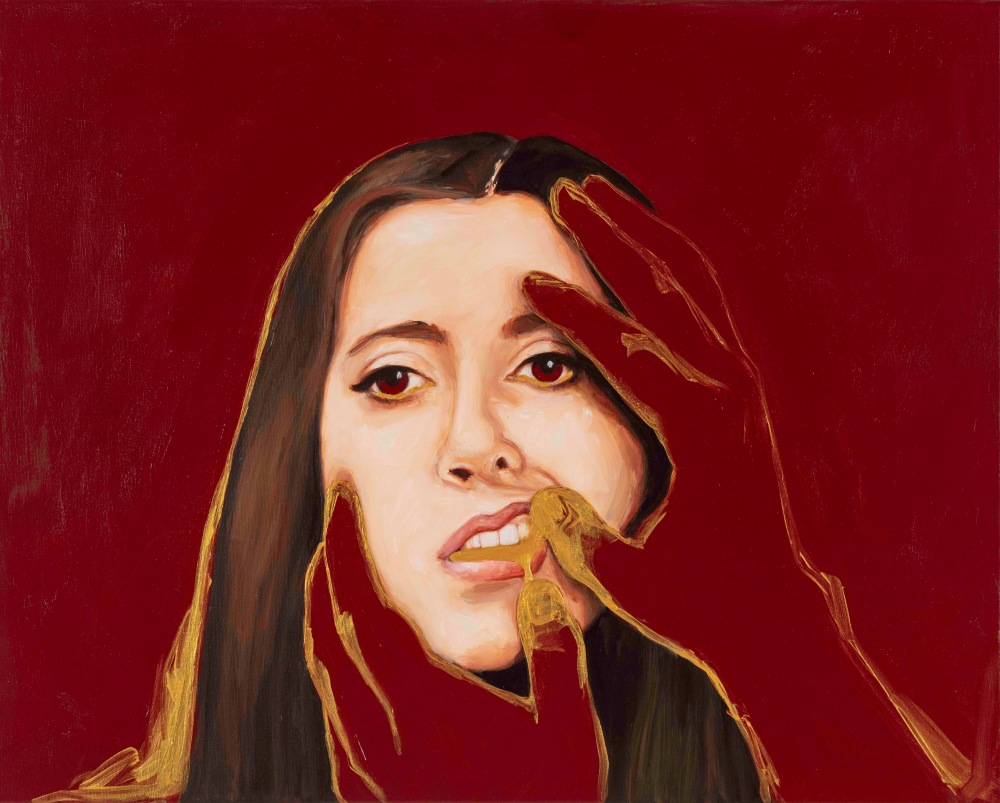 I have been using a variety of source materials for my new paintings. Because I was leaving behind the self portrait, I had to find a new source of imagery. I still wanted to keep it personal to me, but with a bit more distance. I am using a variety of source material, from my family photographs, Family photos from strangers found on eBay, and movie images. I have long been interested in horror films, and how they reflect the anxieties of society at the time, but I didn't necessarily want the "horror" to be part of the paintings. I take them out of that context, and try to use their expressions to show a kind of ecstasy or transcendence. This is a base motivation for the work, but only a few of the paintings I have finished actually fit into this category. Still, it is the starting point. Most of source imagery I am using comes from the same time frame as my family photos, The 60's through the 70's. This coincides with my youth, and the earlier self portraits I made, and the source material for the collages. The work is still self-referential.
How I approach the paintings is very different than the drawings. With the self portraits, I worked out my composition ahead of time, and the actual drawings varied little, if at all from that original vision. Conceiving them was the real work, making them was almost mindless. And I was bored. I approach the paintings from a very different point of view. I find an image that speaks to me in some way, and I start making studies. Those are usually acrylic on small un stretched canvases, or quick drawings in a sketchbook, or sometimes in Procreate on my iPad. I let the image tell me what it's about. Sometimes I find a deeper meaning, but many are rejected. Once I choose an idea and begin the painting, I have to allow that concept to grow and change. That is the real challenge: remaining flexible. This is what I have been struggling with since I switched from drawing. But learning how to do this has been its own reward. I have always said that my work was about learning how to make better art, and that mirrors and informs similar struggles in my personal life. I think these paintings are just the beginning of of what I can do with paint. I continued to be frustrated by my "infancy", feeling like a college freshman in my first painting class. I still want to be freer and less self conscious, and I do see that happening as I continue to work. One of the reasons I chose acrylic over oil paint is because I am forced to be looser and not try to exert too much control over the brush strokes.
Anyway, that is a quick stream of consciousness account of what I am trying to do. Below is a broader, but better written artist statement. Between the two of them, you can get an idea of where I am coming from. Let me know if you have any questions.
My intentions throughout my career as an artist have been to explore my identity. Recently, I have shifted away from my years-long use of the self-portrait and moved towards space imagery--moons, galaxies, the sun, clouds and other phenomenon—as a way of investigating who I am how I came to be. As a child of the 1960's and 70's, the idea of space travel became synonymous with hope for the possibilities of the future. This imagery is also ripe with cultural references to mythology and mysticism, so my new paintings and collages often take on a metaphysical quality. But this attempt at transcendence is not necessarily a successful one, and the work may offer a vague sense of malaise or uncanny, and is often a bit cheeky. I'm not pretending to have all of the answers. The work is an evidence of the search. I am interested in how reality is formed, and that this "reality" is fluid and easily confused. The physicality of the surface becomes part of the vocabulary of that investigation. The use of layers--paint, wallpaper, stitched thread, collage—betrays illusionistic space and leaves elements competing for dominance. So, even as I abandon the more personal imagery, the new work continues to be autobiographical, tracing my attempts to find my pace in the world, as an artist and an individual. The identity I am exploring is one that is part of a larger universe, not just an individual one.